Following the release of the debut documentary 'Where Love Lives', Glitterbox Recordings delivers the accompanying compilation to the film's narrative of dancefloor expression and liberation.
Curated by label founder Simon Dunmore and Glitterbox A&R Seamus Haji, who guide the listener on a journey through disco days past and present, this compilation encapsulates the spirit of the film and the parties that inspired it. Featuring records from Glitterbox's nearest and dearest such as Horse Meat Disco, Melvo Baptiste and The Shapeshifters, as well as cuts from essential dance acts like Roísín Murphy, Crazy P, Danny Krivit and Henrik Schwarz, this is essential listening for anyone who's craving some dancefloor electricity.
Available on CD, 3 x 12" vinyl and digitally, the compilation provides an immersive listener experience which will transort you straight to the heart of the dancefloor.
Simon Dunmore & Seamus Haji 'Where Love Lives' will be available to stream, download and purchase via Glitterbox Recordings on 16 April, pre-order HERE. To watch the film that inspired the compilation head to YouTube.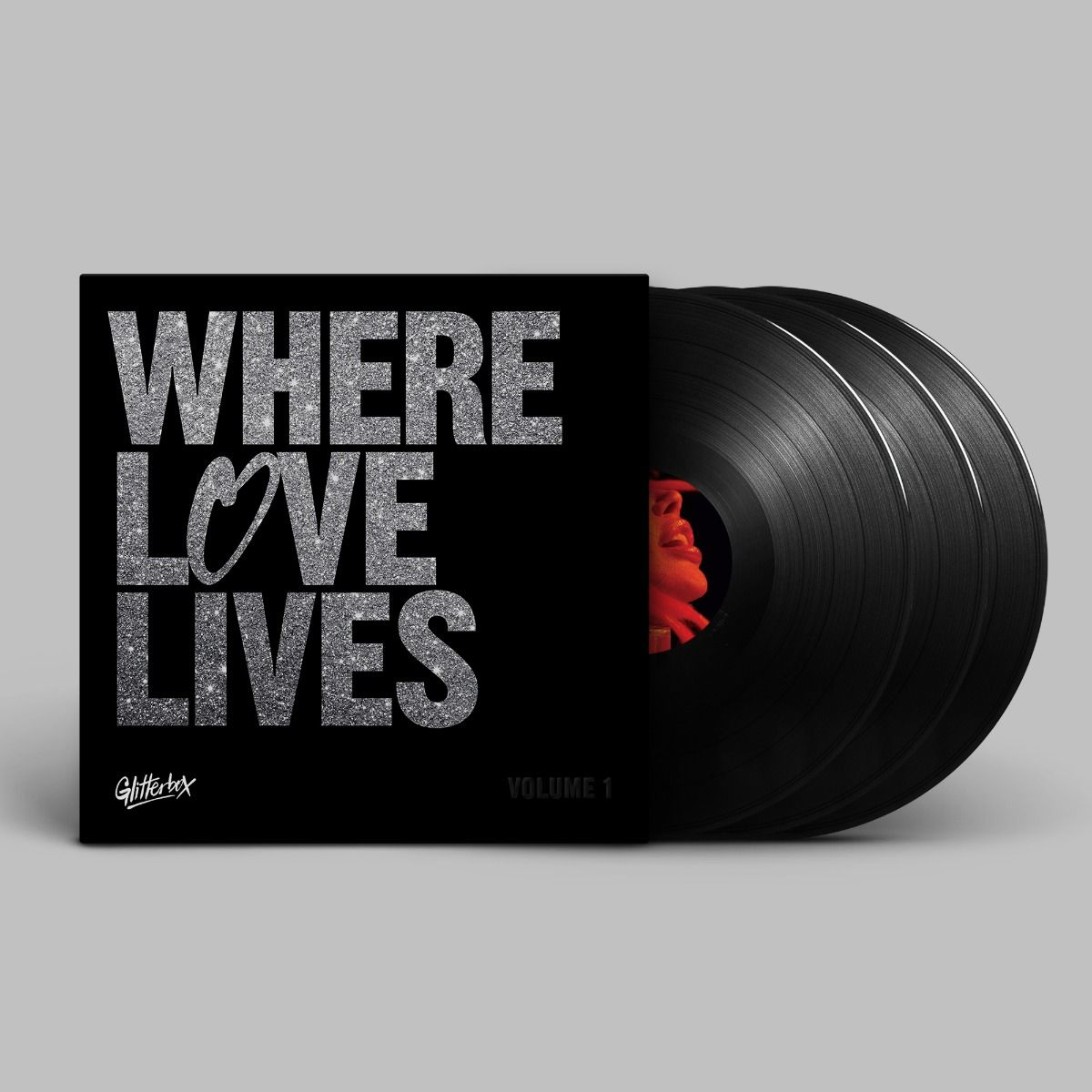 TRACKLIST
3 x 12" Vinyl
VOLUME 1
A1. Dimitri From Paris x Fiorious 'Music Saved My Life' (The Extended Discomix)
A2. Mike Dunn 'If I Can't Get Down' (Luke Solomon's Extended Clubland Remix)
B1. The Juan Maclean 'A Simple Design' (Purple Disco Machine Remix)
B2. Mighty Mouse 'The Spirit' (Extended Mix)
C1. Horse Meat Disco & Kathy Sledge 'Falling Deep In Love' (Joey Negro 12" Disco Blend)
C2. Eli Escobar & Nomi Ruiz 'Dance 4 Love '99' (Club Mix)
D1. Shakedown 'At Night' (Shakedown's Galactic Boogie) 
D2. Seamus Haji featuring Kathy Brown 'A Better Place' (Extended Mix)
E1. The Shapeshifters featuring Kimberly Davis 'Life Is A Dancefloor' (Club Mix)
E2. Aeroplane featuring Tawatha Agee 'Love On Hold' (Dr Packer Extended Remix)
F1. Debbie Jacobs 'Don't You Want My Love' (Full Intention Extended Disco Mix)
F2. Hifi Sean featuring Paris Grey 'Lost without U' (Horse Meat Disco Extended Remix)
VOLUME 2
A1. The Shapeshifters featuring Billy Porter 'Finally Ready' (Dimitri From Paris TSOP - The Sound Of Paris - Remix, Pts I & II)
A2. Antenna! 'Rhombus' (Extended Mix)
B1. Mike Dunn 'Strut Cho Phunky Stuff (Sho' Nuff)' (Mike Dunn Extended Black Glitter MixX)
B2. Quentin Harris & Jason Walker 'Stronger' (Extended Mix)
C1. D.C. LaRue 'Hot Jungle Drums And Voo Doo Rhythm' (Dr Packer Dub)
C2. Smith & Mudd featuring Quinn Lamont Luke 'The Distance' (Ron Basejam Remix)
D1. The Vision featuring Andreya Triana 'Mountains' (Joey Negro Live And Direct Extended Mix)
D2. Horse Meat Disco featuring Fi McCluskey 'Love If You Need It'
E1. William & The Young Five 'You Turn Me On' (JKriv Rework)
E2. Melvo Baptiste featuring Phebe Edwards 'Bad Company' (Extended Mix)
F1. The Phenomenal Handclap Band 'Judge Not' (Ray Mang Disco Mix)
F2. Powerdance 'Power Dance' (Mousse T.'s Disco Shizzle Extended Mix)
CD
CD1 - Seamus Haji
1. Smith & Mudd featuring Quinn Lamont Luke 'The Distance' (Ron Basejam Remix)
2. Crazy P 'Eruption'
3. Lovebirds featuring Holly Backler 'Give Me A Sign'
4. The Phenomenal Handclap Band 'Judge Not' (Ray Mang Disco Mix)
 Luke Solomon featuring Queen Rose & Amy Douglas 'Light You Up' (Accapella)
5. Róisín Murphy 'Murphy's Law' (Extended Mix)
6. Sure Thing 'Holding You Tight' (Extended DJ Mix)
7. Sunset City 'Feels So Right' (Art of Tones '1982' Extended Remix)
8. Bobby D'Ambrosio featuring Lasala 'Runaway Love' (Dr Packer Extended Remix)
9. Horse Meat Disco & Kathy Sledge 'Jump Into The Light' (Extended 12" Mix)
10. Melvo Baptiste featuring Phebe Edwards 'Bad Company' (Extended Mix)
11. Birdee featuring Angela Johnson 'Something About You' (Extended Mix)
12. William & The Young Five 'You Turn Me On' (JKriv Rework)
 Bongoloverz featuring An-Tonic 'Power Of Music' (Accapella)
13. Aeroplane featuring Tawatha Agee 'Love On Hold' (Dr Packer Extended Remix)
14. Eli Escobar & Nomi Ruiz 'Dance 4 Love '99' (Club Mix)
15. Chasing Kurt 'From The Inside' (Henrik Schwarz Deep Version)
 Audiowhores & Roland Clark 'I'm Inspired' (Spoken Accapella)
16. The Juan Maclean 'A Simple Design' (Purple Disco Machine Remix)
17. The Vision featuring Dames Brown 'Down' (Extended Mix)
18. Horse Meat Disco featuring Amy Douglas 'Let's Go Dancing' (Dimitri From Paris Remix)
19. Seamus Haji featuring Kathy Brown 'A Better Place' (Extended Mix)
CD2 - Simon Dunmore
1. Freeform Five & Carolyn Harding 'Strength' (JKriv Extended Remix)
2. Horse Meat Disco featuring Fi McCluskey 'Love If You Need It' (Extended 12" Mix)
3. Hifi Sean featuring Paris Grey 'Lost without U' (Horse Meat Disco Extended Remix)
4. Nico Saav 'Steam' (Dicky Trisco Remix) Eli Escobar featuring Nomi Ruiz 'Can't Stop Dancing' (Accapella) Kings Of Tomorrow 'Let Me Tell You Something' (Sandy Rivera & C. Castel's Accapella)
5. Powerdance 'Power Dance' (Mousse T.'s Disco Shizzle Extended Mix)
6. The Vision featuring Andreya Triana 'Mountains' (Joey Negro Live And Direct Extended Mix)
7. D.C. LaRue 'Cathedrals' (Jamie 3:26 Extended Ballroom Version)
8. Donald's House 'Piano Parfait'
Mike Dunn presents The MD X-Spress 'Git Cho House On (Children)' (Accapella)
9. Antenna! 'Rhombus' (Extended Mix) Ralphi Rosario with Linda Clifford 'Wanna Give It Up' (Dr Packer's Légo's Dub Accapella)
10. Fallout 'The Morning After' (Purple Disco Machine Re-Work)
11. Billie 'Nobody's Business' (Extended Radio)
12. Mike Dunn 'If I Can't Get Down' (Luke Solomon's Extended Clubland Remix)
13. Mike Dunn 'Strut Cho Phunky Stuff (Sho' Nuff)' (Mike Dunn Extended Black Glitter MixX)
14. The Shapeshifters featuring Kimberly Davis 'Life Is A Dancefloor' (Club Mix)
15. D.C. LaRue 'Hot Jungle Drums And Voo Doo Rhythm' (Dr Packer Dub)
16. Dimitri From Paris x Fiorious 'Music Saved My Life' (The Extended Discomix)
17. Casbah 73 'Love Saves The Day' (Extended Mix)
CD3 - Simon Dunmore
1. Horse Meat Disco & Kathy Sledge 'Falling Deep In Love' (Joey Negro 12" Disco Blend)
2. The Shapeshifters featuring Billy Porter 'Finally Ready' (Dimitri From Paris TSOP - The Sound Of Paris - Remix, Pts I & II)
3. Mike Dunn 'Natural High' (Mike Dunn Extended Black Glitter MixX)
4. Dam Swindle 'Hey Mister' (Extended Mix)
5. Debbie Jacobs 'Don't You Want My Love' (Full Intention Extended Disco Mix)
6. DJ John 'Julius' Knight 'Find A Friend' (Dr Packer Extended Remix)
Luke Solomon featuring Amy Douglas & Queen Rose 'Love. Hope. Happiness' (Accapella)
7. Fiorious 'I'm Not Defeated' (Catz 'n Dogz Extended Pride Mix)
8. Junior Jack presents Glory featuring Jocelyn Brown 'Hold Me Up' (Riva Starr Tangerine Funk Extended Vocal Mix)
9. Quentin Harris & Jason Walker 'Stronger' (Extended Mix)
10. Romain & Danny Krivit featuring Linda Clifford 'Philly Groove' (Joey Negro's Philly Jump Extended Mix)