WORDS BY TRACY KAWALIK
Meet the multi-hyphenated talents behind 'Where Love Lives', Glitterbox's star dancers The Mx Fit and Lucy Fizz Find out what it took for them to perform with the top DJs on the planet and how they're using their fame beyond the podium.
The dancefloor has been put on pause, but not for long... Amid the surreal madness of a year without club culture and a forced disconnect from each other, the power of music, freedom of expression, and importance to get back on the floor, sweat-soaked and transcending in unison into a beautiful groove has never felt more vital. 
Walking past a sea of silent, shuttered up joints that once pulsated with the sound of world-famous DJs, seeing iconic club after club face closure, and met with the dire reality of living in a world where dancing has been prohibited - it might have seemed like all was lost. But thankfully, news has broken that clubs are set to reopen at the top of the summer and with that, something wonderfully wicked this way comes. No one can say for sure what the future of clubbing looks like, but we know, most definitely, it won't be the same. History repeats itself and just as in the past, during the darkest and most challenging times, that's when musicians, DJs, dancers, club culture, queer culture, and musical movements have thrived the most. 
You can trust the fearless multi-hyphenated talents of our new documentary 'Where Love Lives'; from Honey Dijon and Billy Porter to The Mx Fit, Lucy Fizz and all the Glitterbox dancers are no strangers to adversity, rebirth and reinvention.
"Whatever we are doing, it's beyond being on the stage, and it's beyond the music. It's just about embracing whatever you are and whatever you've been given" The Mx Fit's words take us back to where, why and how it all started.
Pummelling bass once thumped like a heartbeat. Disco balls undulated overhead. Lasers fired in all directions like a maniacal incandescent storm as saccharine smoke pumped out from below. Gender-blending punters rushed toward the stage to unite in frenetic applause as the beat dropped. It sounds like utopian bliss, especially in the present, but for the dancers soaring overhead, a typical night at work was about to begin. 
Before 2020, you could find Glitterbox's podium dancers plastered sky-high across billboards, posters and flyers where superstar DJs once were. And not only that, they were fronting modelling campaigns, locking down studio sessions with Hollywood celebrities and in demand worldwide. 
Unsurprisingly there are hundreds of dancers vying for their job and no set pathway to find fame. You could be a highly skilled dancer with fierce moves or a club kid with unapologetic confidence who ignites the party the minute they step onto the floor. In the end, the dancers lucky enough to lock down a spot will have unstoppable resilience and guts, and most of all, possess otherworldly magnetism.
They'll have something that gives you goosebumps, something different. You can feel it over your entire body, and as soon as you see it, you can't look away.
To command that kind of attention and carve out a legacy for yourself as a Glitterbox dancer is no easy task. To become a firm fixture at some of the most legendary clubs in history, be it on stage beside the top DJ's, in insanely magical places like Ibiza and for beautiful crowds across the globe, takes meteoric heights. 
Two dancers who have done just that are The Mx Fit and Lucy Fizz and 'Where Love Lives' will bring you close up to get a rare glimpse of their world.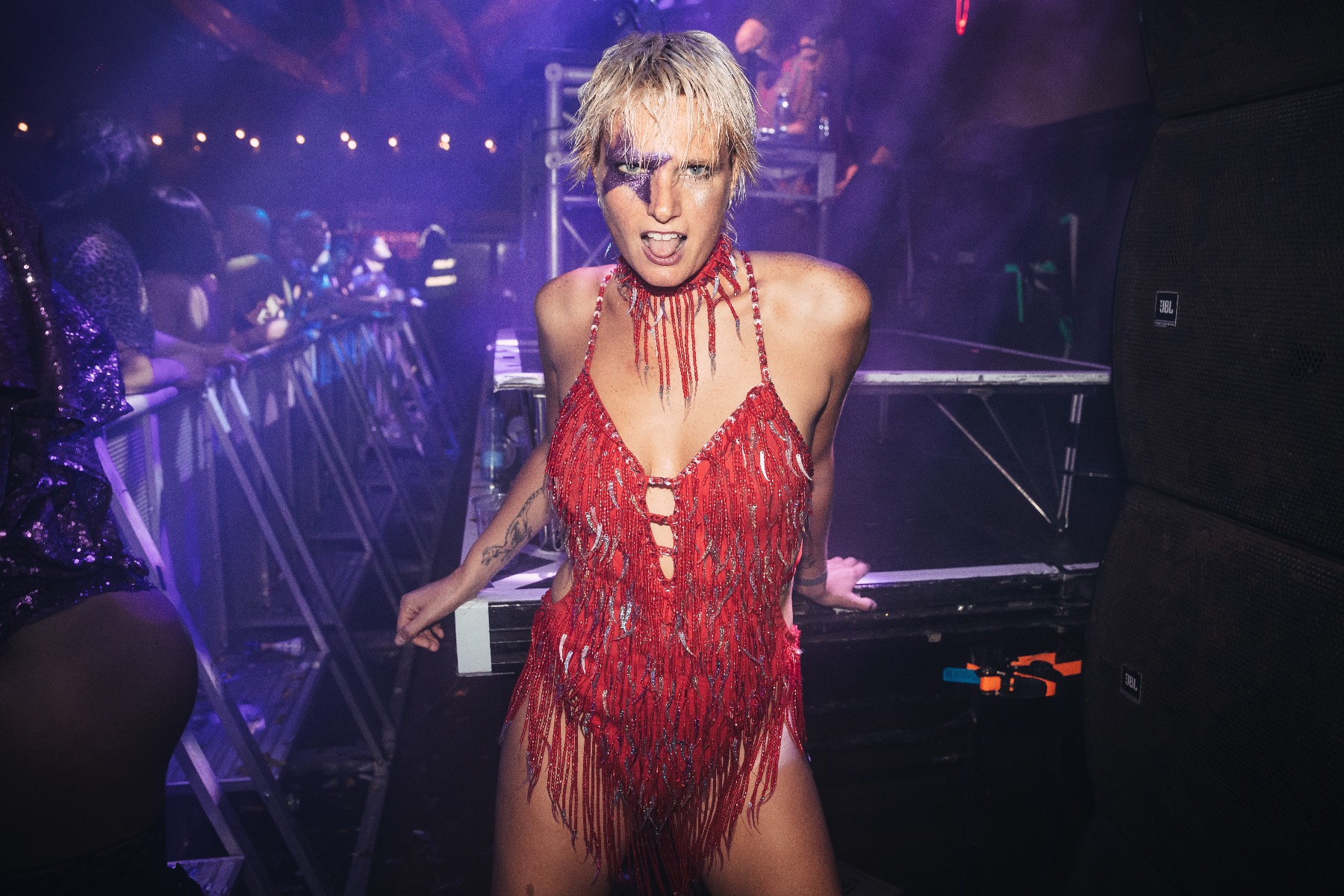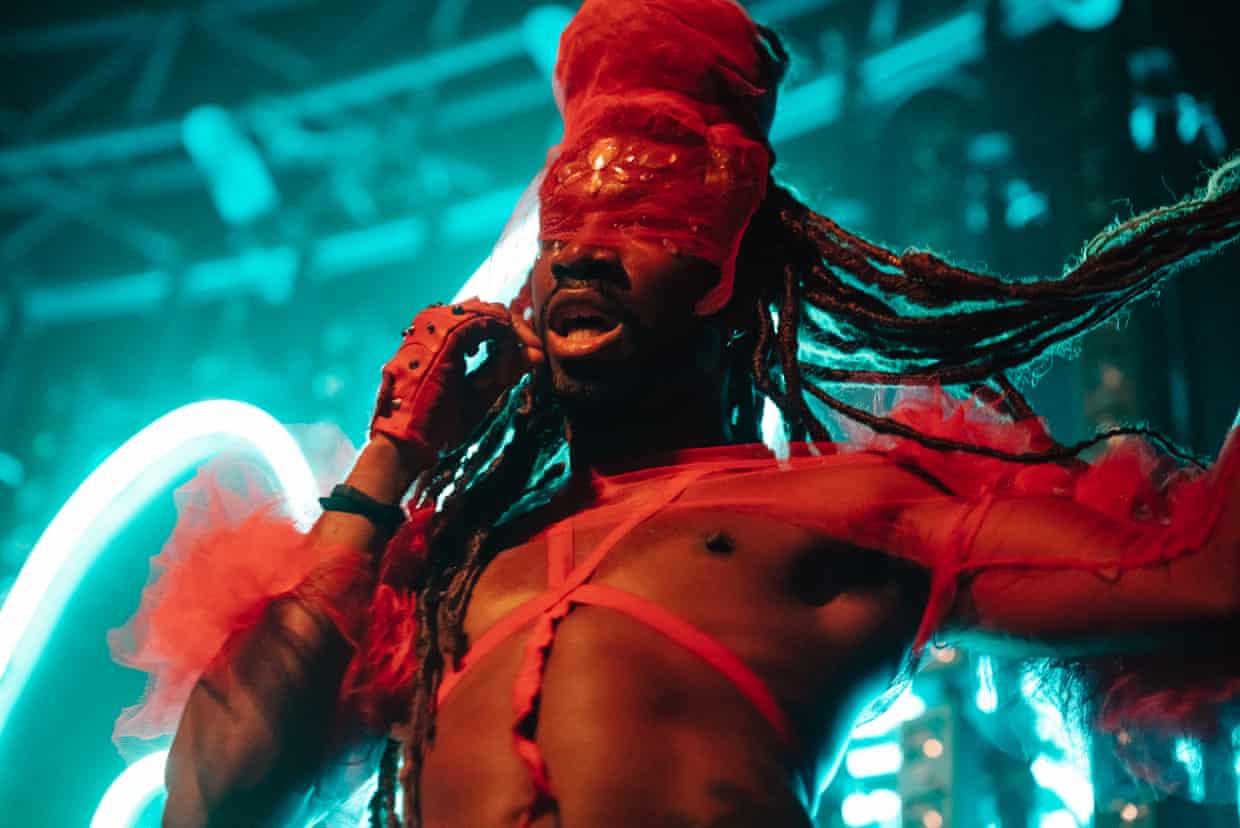 In a matter of years, Lucy went from being a club kid to being flown around the world weekly. The Mx Fit went from being jobless and homeless to starring alongside Dame Vivienne Westwood in a fashion campaign and sharing studio time with Billy Porter. Together they've become two of the most sought after dancers on the scene. 
When club culture was forced to a halt, these unstoppable creative forces did anything but. The Mx Fit and Lucy Fizz exploded onto our screens and into our homes during Defected's virtual festival, articulated their journeys in live Q&As, and more than that, they shared their explosive energy and uniqueness with aspiring club kids across the globe who may never have got the chance to witness it.  
Fast forward to 2021, and The Mx Fit and Lucy Fizz are ready to rise from the ashes of the pandemic to the podium with more fire than before, kick the doors down and tear apart the floor until dawn. Off the back of blazing trajectories that show no signs of slowing down, we caught up with The Mx Fit and Lucy to find out how they're both elevating the scene, what advice they have for new-gen dancers and why we need to watch 'Where Love Lives'.
Do you remember your first time on stage?
Lucy Fizz: I became a dancer from being this crazy club kid just having fun and who got spotted out pretty much every night of the week. I think one of the first places I ever danced was Dalston Superstore. After many many nights dancing on top of the bar, they finally asked me (I think it was New Year's Eve) to get up there and get paid for it. When I first told my family what I was doing, my grandpa and grandma looked at me and said "You need to get your life together". Fast forward a few years, and I'm being flown all over the fucking world, it's so mad!
The Mx Fit: I was raised in a family of people who were always dancing. I did my first dance performance when I was 4 years old and in front of a big crowd as well. So from the beginning, I was not afraid of being immersed in that environment.
What's something people might not know about you that would surprise them? 
Lucy Fizz: I never imagined doing this when I was younger, especially as a trans person growing up in a small country town in the North of England, this was never on the radar for me. When I moved to London, I went to Imperial College to study medicine and train to become a doctor. Luckily, I soon realised it wasn't for me. Outside of that, watching me dance now, you might not know, but off the podium, I'm actually very shy. Everyone always laughs when I say that, but dancing for me is where I feel the most free. It's the place where I can communicate and express myself better than anywhere else. 
What was it like seeing yourself on a billboard for the first time? What has been the biggest moment of your career so far? 
Lucy Fizz: I was in a car driving through Ibiza Old Town and saw myself sky high wearing a cowboy hat, silver bolero and a stars-and-stripes sequinned bikini. I pulled over, off the road, screamed and cried. The craziest moment for me was in 2019 in Australia on the Glitterbox tour. That was the biggest crowd I've ever danced for, and when I came out, I got louder cheers than Glitterbox's headliner! They were actually shouting my name! In Sydney!! There's no words to sum up what that feels like.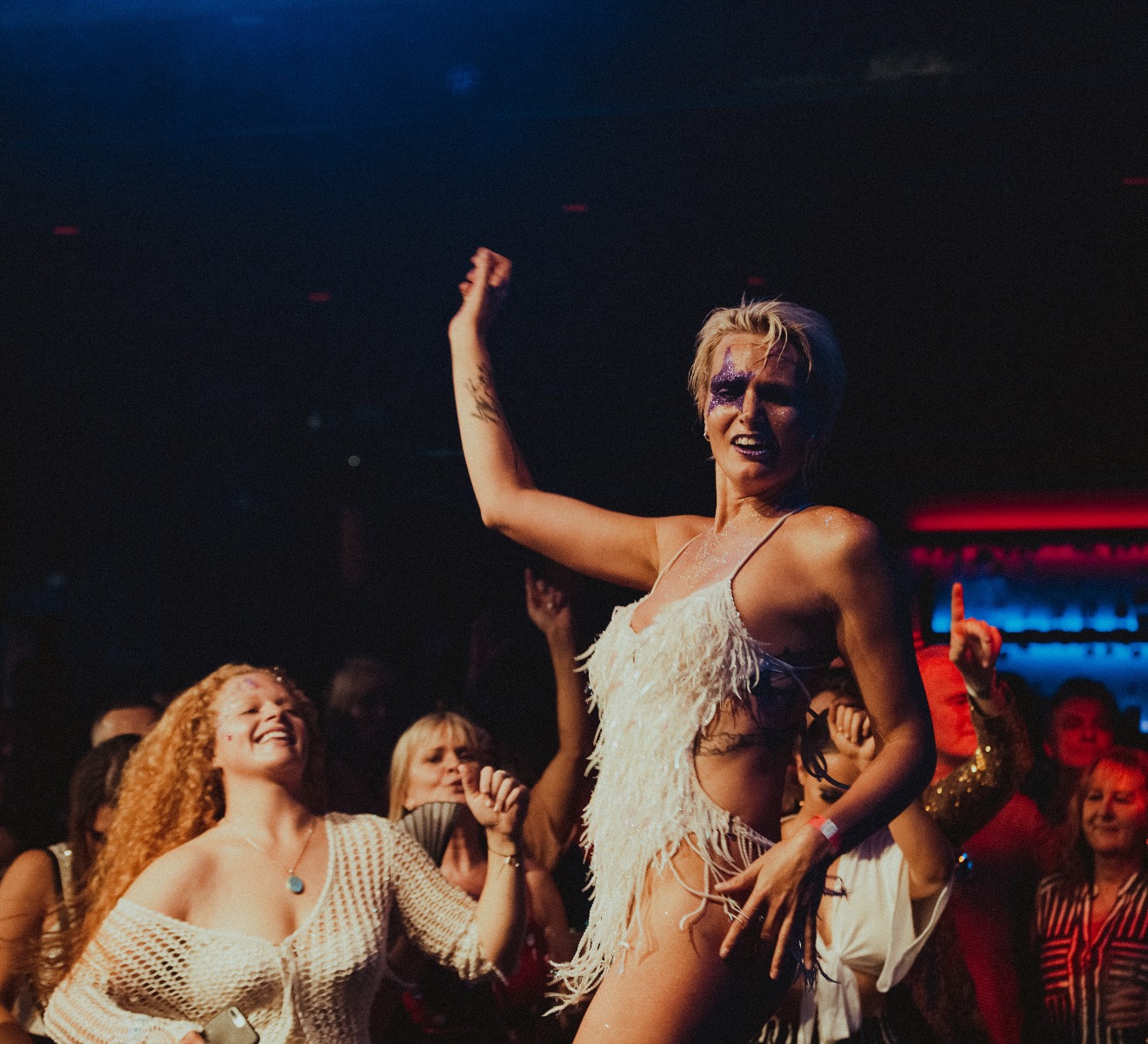 How would you describe a typical shift as a podium dancer? 
The Mx Fit: High profile clubs are working like the Super Bowl when it comes to the production style and a typical podium shift. Dancers are put up in apartments if it's an international gig and given a driver. 'Group A' is picked up at 9:00 pm, 'Group B' 9:30pm sharp. You're dropped off at the club for hair and make-up then divided into teams with rotating sets that run until 5am, earliest. 
Lucy Fizz: When you're so passionate about something, and you enjoy something as much as I do it doesn't feel like work. The music is everything to me and with disco, it just unlocks something inside that's unreal. So many times I won't take a break all night. I'll keep having to remind myself to stop and have some water, but then the next song will come on, and I'll love it even more than the last, so I'll stay up there. There have been times in the past few years where I have danced for days in a row, and entire summers where I went straight from my party at Pleasurehood in London at XOYO to board that 6am Sunday flight for Glitterbox at Hï Ibiza. But no matter how many shows I get booked for or how exhausted I feel, I still feel so privileged and get shivers knowing I'm living my dream. Every time that plane is landing, or I walk onto the dance floor I'm still like "OMG".
Lucy, you're known for delivering stamina defying sets and having one of the most unique dance styles on the scene. How would you sum up your dance style?
Lucy Fizz: The music unlocks something in me that brings me to life, I never want it to stop. I'm doing it sober now, which is a totally different experience but I think I'm wilder and have even more insane amounts of energy than I did before. From throwing myself into a mosh pit, swinging around a pole, or dancing on top of the bar - I very much dance like no one's watching, but with loads of people watching. I think if I had to describe my dance style in a few words, I would say it's pretty wild. It's a cross between Flashdance and an orchestra conductor. 
What makes being a dancer for Glitterbox different from performing for other parties in the world?
The Mx Fit: Performing for Glitterbox is unlike anything else. The way you dance is not the same. The vibe is not the same. The people who come are open and take in the concept as a whole. It's all love.
What's been your craziest thing you've worn?
The Mx Fit: Now my aesthetic is very pro-black and high fashion. But you can find me dancing in everything from precariously placed rhinestones, 70s sequinned flares to Dolce & Gabbana denim thongs created by a team of designers.
Lucy Fizz: There's a lot of people whose first memory of meeting me was at an Easter rave in East London covered in nothing but chocolate. I also wore a giant, neon and tiger print Furby costume made of fun fur in this troupe of crazy drag queens for the queer late-night venue, NYC Download at Glastonbury. That costume weirdly went missing as well, so hopefully, Furby's out there on a dance floor somewhere! 
What percentage of your income do you think you're spending on your look?
The Mx Fit: A.LOT. In the beginning, you have to hustle. Every penny you make is going back into your look. Outside of dancing, I'm also a stylist and model, so I have high expectations to deliver when it comes to my aesthetic. I have a team of people creating my look each night that I'm performing. I have one woman who is only doing all my wigs and dreads, and I'm still spending a lot on both of those because I respect the work that these incredible artists put in as well. 
Lucy Fizz: As dancers we're lucky to have so much talent around us, and within the queer community, we have an even stronger collective of creatives. I'll have someone making a costume for me, maybe someone else is a set designer, someone can work on a headpiece. We're all work as a team. 
What statement do you make with your aesthetic?
The Mx Fit: Empowerment. Blackness. Positivity. We're born naked, and the reason why I perform wearing very little is that that is the truest version of myself. If you go to France if you go to England if you go to Thailand, or any other country the power that music and dance have is that it's the only language we can all speak and understand. In every country and it's a part of life. So for me, to dance with the body I've been given and be representing non-binary, be representing powerful body positivity, and do that on a platform that translates to the whole world... that's the biggest and best statement I could do.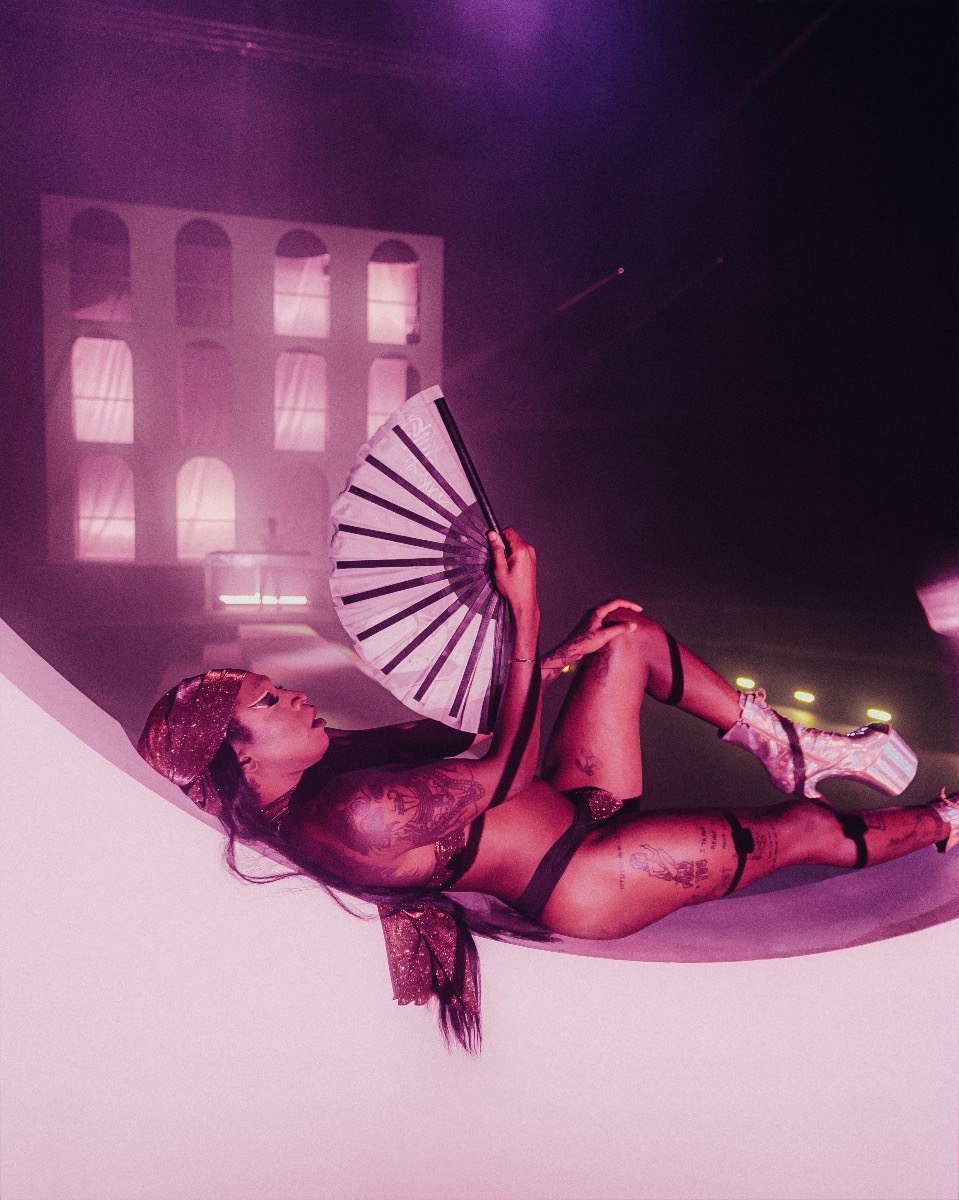 Tell people anecdotes about the life of a Glitterbox dancer and anyone would be starstruck. Few ever question how hard it is to make it in the industry. Looking back, what would you say was your more challenging time? 
The Mx Fit: Dancing is deeper for me than applause. I realised it was about expressing my sexuality and identity as well, and my family didn't want to be in the spotlight for that. I left them behind in Paris, began performing at the Box in London then was sold a crazy dream by two guys in Mykonos. When I got there to dance for the season, I was sharing a mattress in a room full of cockroaches. What little money I got paid was robbed. Eventually, I came back to London fucking heartbroken, jobless and homeless. Sometimes I was awake 24 hours at a time performing at The Box at night, then showering and working in a gym in the day to make ends meet… 6 months later, Glitterbox called me for my first gig, and the rest is pretty much history.
As the wave for conscious partying and sober clubbing continues to grow, have you witnessed a pivot among dancers?
Lucy Fizz: I've done it all. I've partied for 10 years. What I haven't done is go to Australia and New York to dance at The House of Yes. What I've accomplished as a trans performer, dancer and LGBTQ+ ambassador for clubbing up until this point, this is everything to me. There are so many opportunities for me to do amazing things and I want to be present, I want to make the most of what's in front of me. I don't want to fuck anything up.
How has the dance floor and club scene affected your life?
Lucy Fizz: Nightlife has been this really instrumental part of shaping my identity. I discovered the queer scene in East London about 12 years ago. From that point, I think this outrageous energy that I found within myself and that I have when I'm dancing and become known for, is something that was not only unlocked by the music but from the people at those parties.
The Mx Fit: I'm so free and at peace with myself now. I know people are going to always look at me because I look different and act different - that's because I am different. But I'm at a point now where I feel like if you want to talk, judge or laugh at me, go ahead. It won't stop me from doing what I do or being who I am. As dancers, we have the balls to stand out on stage and embrace our imperfections and still make everyone gag! We have a gift to make the audience feel just as worthy and good because they are.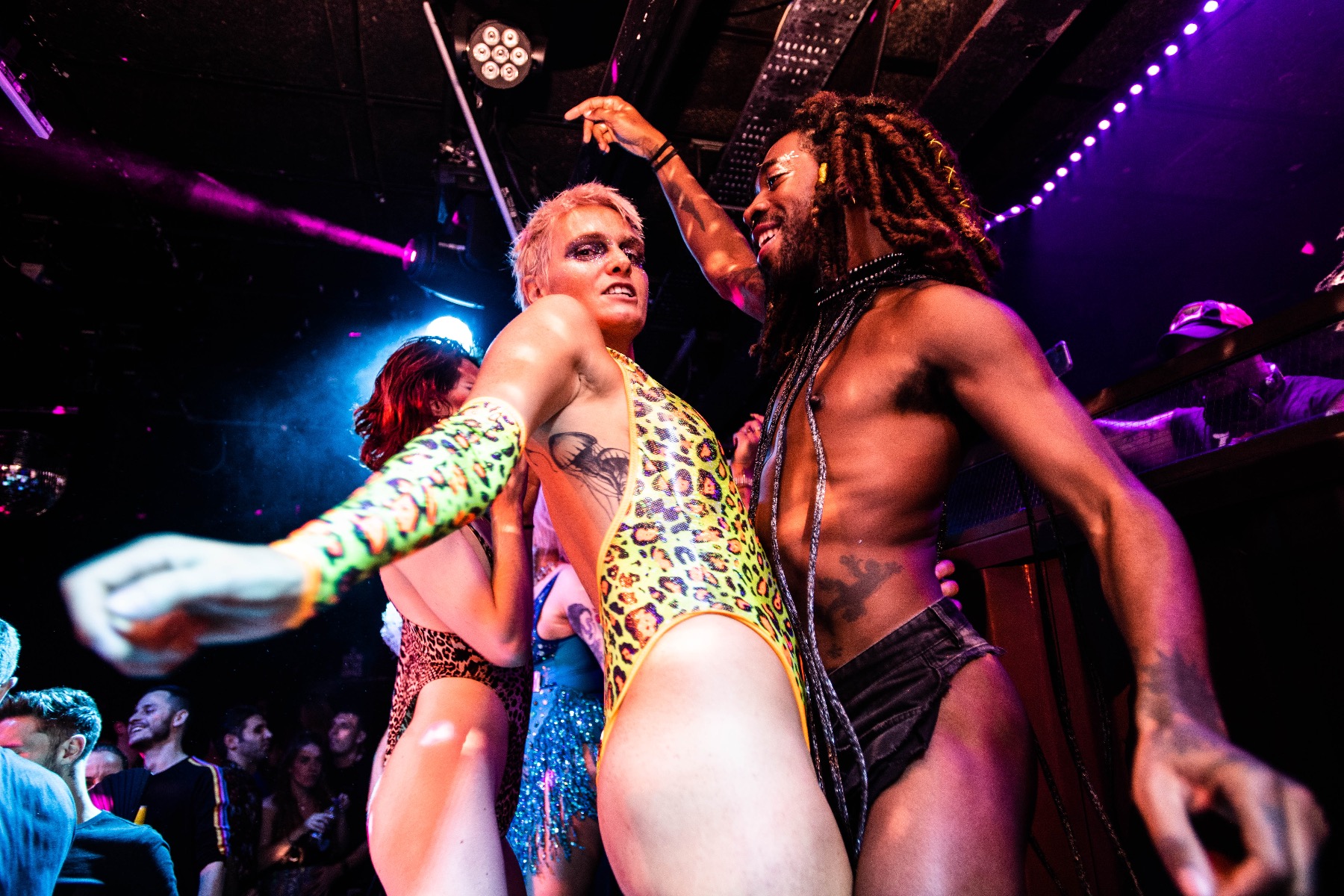 How did dance help you through the pandemic?
Lucy Fizz: Waaaaahh! I miss dancing in clubs so so much. Dancing around in your living room just doesn't quite hit the same as the high you get from the collective euphoria of dancing in a club full of people. I feel super lucky to have made it onto a stage last summer (at a socially distanced festival) with The Shapeshifters. Dancing around in the rain, singing my heart out to 'Finally Ready' was the highlight of my summer.
The Mx Fit: Dancing through the lockdown felt amazing, like a protest! You can take the club away from the dancer but you can never take the dancer away from the dance floor (even if that has to be a living room, rooftop, parking lot or residential street). We still found a way to spread hope and joy!
What was the greatest thing you learnt about yourself?
The Mx Fit: I learned to slow down the path and actually take time for myself. The hardest part was to see my body out of shape and that's okay. I refuse to fall under the pressure of coming out of lockdown and looking like a snack, when the truth of it is, abs or not, muscly or not, I'll still jump on that stage with the same energy and feel my best.
Lucy Fizz: I think the pandemic really highlighted how vital social interaction is and how much value there is to be gained from nightlife. When we did the Glitterbox live streams, it was an incredible surprise to get some of that magic I feel from the dance floor back. The sense of community that I had been longing for was found in the camaraderie of the dancer's group chat which was popping off like a conversation backstage in the dressing room. At the same time, the comments on the YouTube stream were full of love! You could feel the magic of the music bringing everyone together and lifting our spirits.
What have been the essential lockdown records that you've had on rotation to keep you dancing? 
The Mx Fit: 'Finally Ready' by Billy Porter and The Shapeshifters, 'Canoa' by Gregor Salto and 'Hey Hey' by Dennis Ferrer.
Lucy Fizz: I think my most listened to track this year was Jayda G's 'Both of Us'. I just wish I could have danced to it at a festival last summer! I had Roisin Murphy's album Roisin Machine on repeat when it came out too. 
What advice would you give the next generation of podium dancers that might be inspired to follow in your footsteps on the dance floor? 
The Mx Fit: Ask yourself why you want to do this, and take time to think of your character and the message you want to share. Let dancing be what you want and not what other people want from you. And stand out!! Patience is also key. It took us time to get there. You'll need resilience too and finally, perfection doesn't exist. Don't look at how amazing the others are doing. Do you! Be confident!
Lucy Fizz: Stamina! Being a dancer is super fun, but it's also a lot of work. It's taken me years and years of doing it as my second job, and loads and loads of gigs for little money before I got to do all these fabulous, wonderful things that I get to do now with Glitterbox and appear on screen in documentaries. Dancing is not an easy world to get in, too, so be prepared to work hard for it and be tested. I put in all that work because I love it so much, and if you do too, don't be disheartened, follow your passion, find what makes you unique and put as much or your personality in it as possible.
What can the audience expect from that first night back when you step out to perform?
The Mx Fit: After all this, I'll always be even more grateful for each gig I get booked for, each plane I sit on and each hug I get from a party goer. And when I step on that stage I want to give back even more what I was given once upon a time from those amazing artists and dancers who inspired me first.
Lucy Fizz: Honestly, I think I might explode. There will be no getting me off the dancefloor. Hugs for everyone. I'll probably cry, a lot. And at the end of the night, I'll be the one screaming 'ONE MORE SONG!' at the top of my lungs! 
What is the main message you want to deliver with your dance? 
The Mx Fit: Know that it's not about getting over things that matter, it's about going through them. School teaches you technique, but life teaches you experience. If you can express your journey in your dance, and pour yourself into your art, that will take your abilities and opportunities as a performer to higher levels and beyond. I'm living proof that when you put your mind to something you can achieve it. Overall I want my dance to make people feel what they want to feel regardless of what society wants them to think. If you're a cisgender man looking at me on stage and you feel attracted, there's no shame in that. I want people to disconnect from the outside world, strip down from the codes we've been imposed and just feel!!!!!
Lucy Fizz: When I'm dancing, I can see that people are transcending to new places that they didn't expect themselves to ever go, the same way that I do as well - that's the biggest rush for me. To know that I have the power with my dancing to make them feel the way the music makes me feel is so special and crazy. What I want everyone to experience from my dancing is pure joy. Dancing should be free of hate, racism, and discriminatory attitude. I just want everyone to have fun, come together, enjoy the music, and be nice to each other. I hope we can all be on a dancefloor again soon, because more than ever, that's what the world needs right now more than ever. 
Where Love Lives is out now, watch via YouTube HERE, pre-order the official soundtrack compilation on 3CD and 2x3LP: https://glitbx.lnk.to/WLLCompID.