WORDS: NICK GORDON BROWN
From Elvis to Eminem, lurid newspaper headlines have long stirred up the prominent role played by music in the so-called generation gap. But these days the house scene seems to be breaking that mould – meet the raving families…
"Would you let your daughter marry a Rolling Stone?" was the question posed by the tabloids in the 1960s (a story the Stones' then manager Andrew Loog Oldham gleefully played his part in). Come the 1970s, it was punk rock causing moral outrage - "must we fling this filth at our pop kids?" screamed the headlines. In the 1980s, just as parents were coming to terms with hip hop ("Go home Beasties!"), they were hit with "Spaced Out! 11,000 youngsters go crazy at Britain's biggest ever Acid party". However, it appears the times they are a'changin'. A quick glance at the legion of 'heritage' rock, soul and jazz artists still touring (albeit often with much changed line-ups) shows that there is always a captive middle-aged+ audience for music; but on the dance music scene, there's a key difference. It's not just that the number of over 40s still clubbing has been documented as being in the millions – as Simon Dunmore tweeted last summer:  
"Not sure if kids are taking their parents raving or parents are taking their kids...either way it's a beautiful thing!" 
Not sure if kids are taking their parents raving or parents are taking their kids....either way it's a beautiful thing!

— Simon Dunmore (@SimonDunmore) August 30, 2019
Simon received dozens of confirmatory responses. "I've been to a few Glitterbox with my parents (both 60) in the UK and Ibiza and they love it, I'm 35 and I'm not sure who is taking who," tweeted Andi Smith, while another user (LTaps) responded, "took my 72 year old mum to Glitterbox at Hï last month, she had a great night". Hundreds more began to share their stories when we threw the subject open to the We Are Defected and Glitterbox Family Facebook groups. The responses came in equal volume from parents and children, with those on both sides of the age divide eager to sing the praises of cross-generational clubbing. Jenna Whyman told us how her 73 year old mum "lives for house music"; Marco Emidio Massei had taken his mum to Tomorrowland; while Roger Ptr took his parents to see a Danny Krivit all vinyl set at Output.
Familial bonding over music frequently starts young, as many parents commented. "Even when both our daughters were minus nine months, music would go deep into the womb and they both came out into the world with music in their souls," 70 year old David Blatt told us. "Our kids never had a choice," joked 48 year old Siobhan Keating-Moodie, "it was always on, we had decks and vinyl out, they were brought up on it." Emma Summerside, 42, recounts how she and husband Gerard, 48, "hired a car to tour the island of Ibiza with two young kids in tow, stopped off one afternoon at the Blue Marlin, and picked up a Defected CD. It was to set the theme of our tour/ holiday in the car round the island with the kids singing along... they now can reflect back on the songs from that CD to tell you about the holiday."  
With the festival boom this century, the majority of them aiming to be family-friendly, it has become much easier for parents to expose their kids to the wonders of live music. However, most parents have also experienced that moment when their child has reached the age where they can gain entry to see a band without parental supervision, and they are told in no uncertain terms that their role in the gig-going experience is now reduced to that of taxi driver. What is telling about our house music tale is that once these children reach an age where they are old enough to go clubbing, they revel in sharing the moment with the old folks – something that parents told us unanimously had not happened when they were of an equivalent age. "I would not have been seen dead in a nightclub with my mum or dad when I was younger. But nowadays, we have family WhatsApp groups with friends where my kids (nearly 21 & 18) have put in writing how they like going out with me/us," says Defected MD Wez Saunders. His daughter Chloe supports this assertion, "our generation's parents were part of the original ravers. They knew this before we did. Besides, what's a better way to bond with your parents than at a rave?"
Wez has been both sides of the decks with Chloe and son Henry, first as a DJ, and now in his Defected role more often on the dancefloor. Glitterbox DJ Katie Goodman (25) is also in the enviable position of being able to share the euphoria of the day job with her mum, Judy-Ann (56), who recalls her highlights to date as being when, "I went to a club in Romford called Circuit and saw Katie DJ for the very first time. And the most amazing highlight - this year September 22nd at Hï Ibiza - Katie opened on the main stage then was in the Wild Corner for 3 and a half hours. I've never felt so proud. To dance to her set and see all the love and support from the dancers, the crowd - it was a surreal moment. And then watching her hand over to the legend that is Honey Dijon." Of that same night at Hï, Katie says, "All the dancers and people in the crowd could tell it was my mum - and that had such a great reaction too. My brother was also there so it was a big family affair. I think people just love seeing family members so close; plus my mum is 100% a "cool mum" and I always enjoy taking her out with me."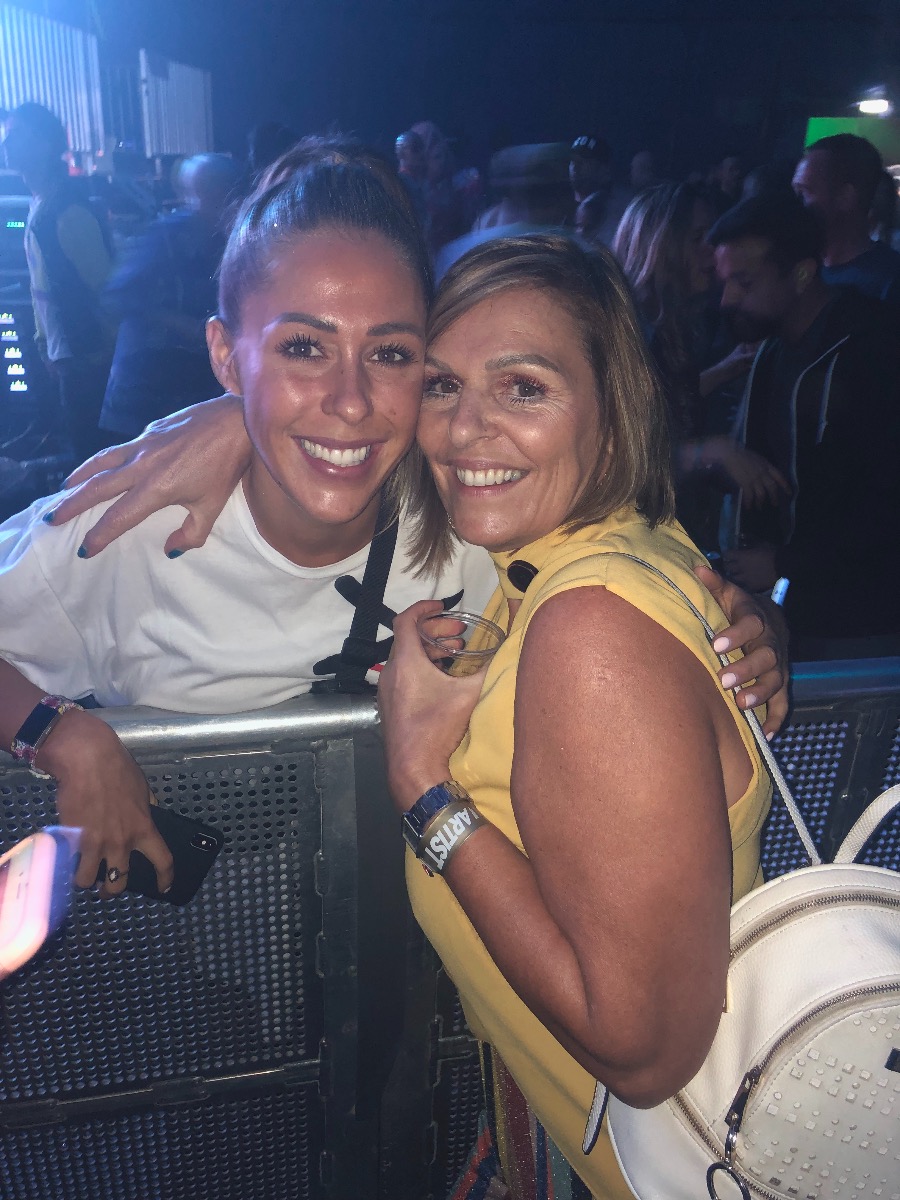 Katie with her mum Judy-Ann at Defected London FSTVL.
Jasmine Blatt also works with Glitterbox, and with her parents having retired to Ibiza, "as soon as I started working those nights at Space, I knew they would love it, so invited them down. Through attending clubs, my parents have befriended my friends and colleagues so they're always getting invited down to nights even if it's not through me. Glitterbox is their absolute favourite these days, and the Glitterbox family always look after them even if I'm not there. People stop them and ask them to take pictures as if they're the club mascots, which my dad LOVES." Dad David, 70, and mum Helene, 69, concur, "Our first experience of Glitterbox was overwhelming. A kaleidoscope of funky, way out dancers that elevated the pounding beats to another level. And what made it special was everyone was up for it! Our age has been a surprising bonus for us in Ibiza. Most revellers are quietly amused / astounded that geriatric clubbers still exist. They often come up and ask for selfies with us. The look on their faces when they see pensioners "giving it large" at 4 & 5 o'clock in the morning. What we don't tell them is that we go for a siesta in the afternoon to recharge the batteries and set ourselves up for the night ahead!"
The 'extended family' clubbing environment was a recurring theme with those we spoke to. Siobhan Keating-Moodie refers to Glitterbox as a "home away from home" which they trust is a safe space for their kids. The whole family love dressing up for Glitterbox, Siobhan adding that "they can be what they like, it's beautiful – I wanted to let them see that." 
Nights at Ministry of Sound have a special meaning to the south London family – Siobhan met husband Paul (48) there in 1993, so visits to Glitterbox and Groove Odyssey parties with daughters Hayley (22) and Kiera (18) hold an added significance. Others told us of similar uplifting moments, for example Maxine Sweeney Scott posted on We Are Defected how, "I'd never have thought 30 years ago that one day I'd be dancing to the same music with my son at a Hacienda night." On the same forum, there was an especially poignant post from Coley Gayles: "After my soul mate / raving buddy / kids' father passed away in 2016, I took our oldest son (aged 18 at the time) to his father's crew's Annual Campout, Pure Vision. We spread his father's ashes, and had the time of our lives. It was the best bonding experience ever! He's now gone every year since."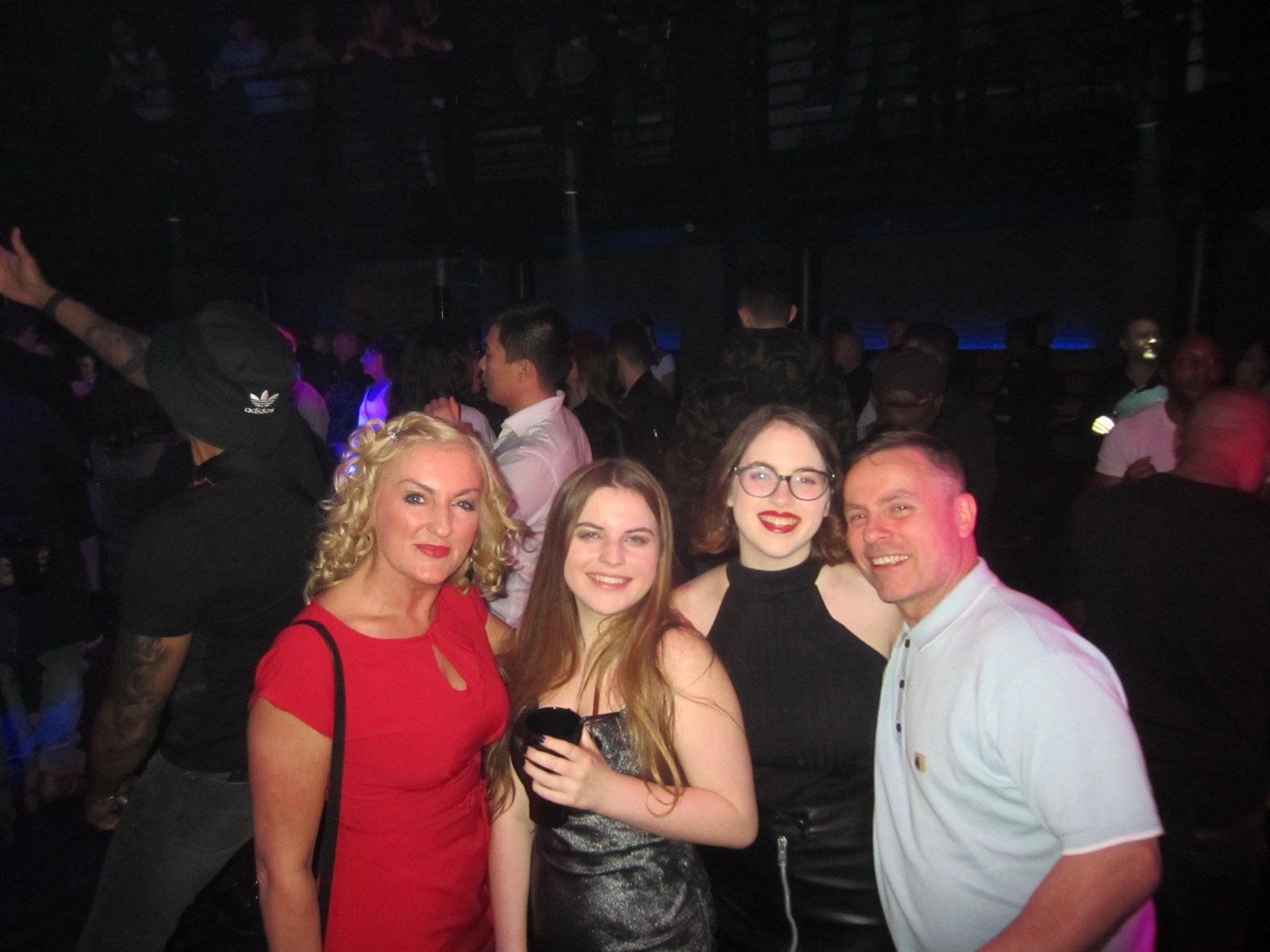 Siobhan, Kiera, Hayley and Paul at Ministry of Sound.
Naturally, a mutual appreciation of house music is central to the whole raving family experience. We Are Defected poster Paul James noted of his nights out with his son, "he was brought up on great music, so why the hell should we not enjoy it together as long as we can?".  30 year old Alex Usherwood posted on the Glitterbox Family forum that his 53 year old dad is, "the one who introduced me to house and disco music in the 1990s, and he still loves it as much now as he did then, maybe even more. That's one of the main things I love about Glitterbox and Defected events, the ages vary so much, but there's one thing everybody has in common, and that's their love of the music. Everybody I talk to at these events has so much passion for it." Many of the offspring have clearly inherited the trainspotting gene, and the sharing of musical tips and knowledge is a two-way street. 
Many of our families have gone to extraordinary lengths to party together. Emma and Gerard Summerside clubbed all around the north of England in the 1990s from their hometown Sunderland base, and though naturally having to slow down when daughters Drew and Saffron came along, annual holidays to Ibiza remained part of the family routine. This led them to discover Glitterbox, and it was love at first sight / listen. They quickly spread the word, and a large group celebrated a friend's 50th at this year's Defected London FSTVL, quickly followed by another 50th celebration for a group of 16 girlfriends at a Glitterbox Ministry night. Younger daughter Saffron went on her first girls' holiday this summer, and met mum and dad in Hï's Wild Corner to dance to Fatboy Slim.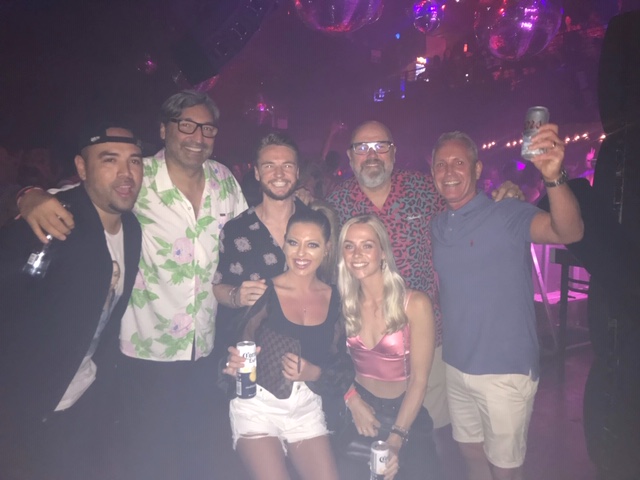 Drew and Gerrard at Glitterbox Sydney with Mousse T. and Simon Dunmore.
Judy-Ann Goodman summarises our cross-generational clubbing phenomenon perfectly: "It's all about mind set. Dance music is a way of removing the generation gap - everyone feels equal when you're dancing to amazing music." Lest we forget, house music is a spiritual thing, a body thing, a soul thing. As such, it transcends age as much as it does colours and creeds. To the house music family, the message for 2020 remains, rave on.
For all Defected and Glitterbox events listings and tickets head to defected.com/events
Thank you to all the raving families who contributed to this piece and come to our parties, see you on the dancefloor.