INTERVIEW & WORDS BY: NICK GORDON BROWN
'Finally Ready' marks the fifth release by the Shapeshifters mark two, three years into which Simon Marlin, now ostensibly solo but with a supremely dedicated and talented team surrounding him, has constantly challenged himself to set the musical bar ever higher. We sat down with Simon to chart his musical adventure. From aspiring B-boy to working with Billy Porter, Kimberly Davis and Teni Tinks it's been quite a ride, taking in teenage raving, mammoth DJ tours, an apprenticeship with Mousse T., seminal residencies in London and Ibiza, a global smash hit, being mentored by Frankie Knuckles and Simon Dunmore – and after many a testing moment, both musical and personal, finding a spiritual home in the Glitterbox family.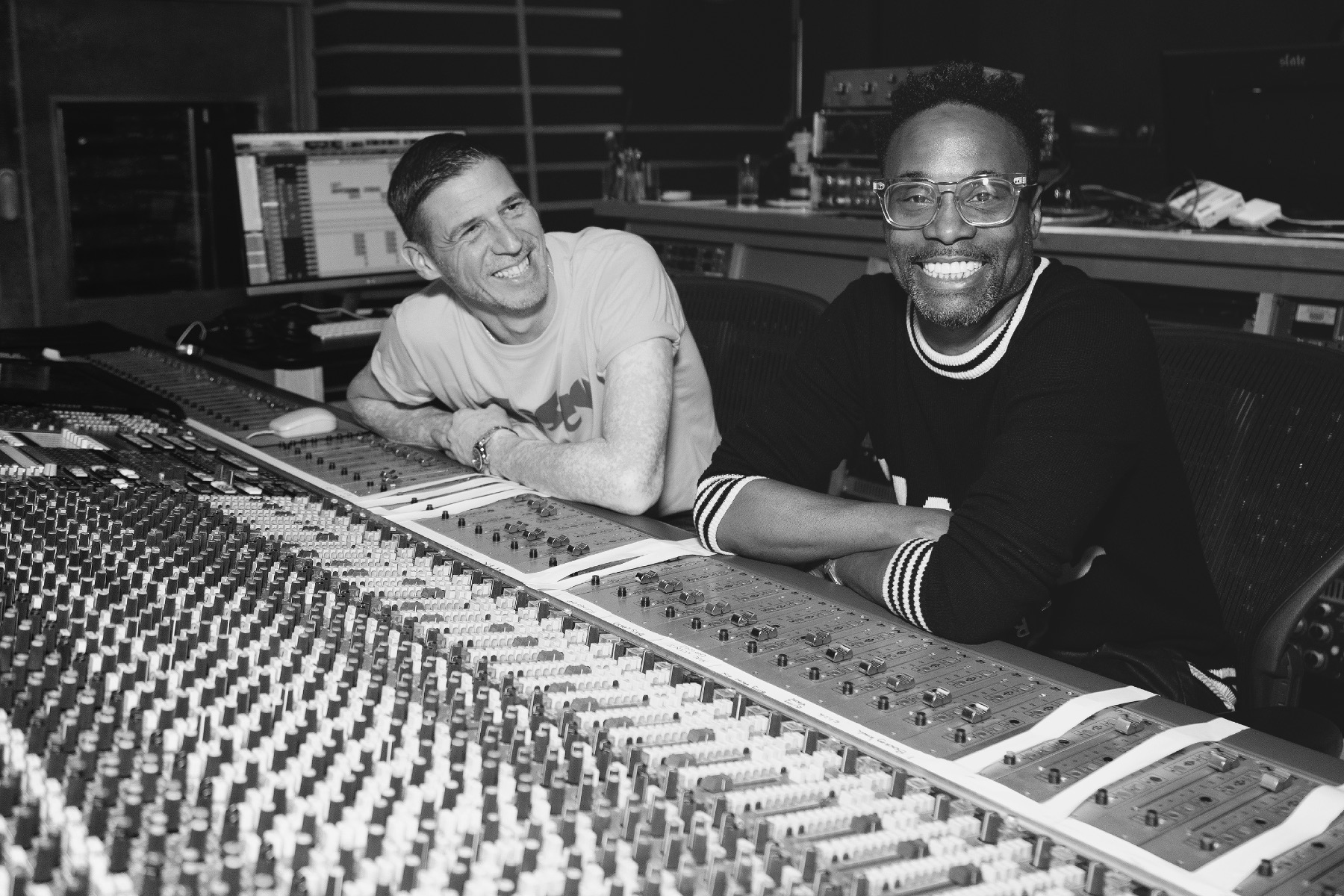 House Training
After spending his formative years in Israel, it was a move to one of the UK's most multi-cultural towns, Leicester, that saw a young Simon Marlin "really start to soak up music". Taking up skating and hearing local DJs play many of the StreetSounds releases led to "the whole B-boy culture, I got into breaking and popping, and was totally captivated by this new sound out of America, records like 'Jam on Revenge', Captain Rock, the Fat Boys, Run DMC's 'Sucker MCs' DJs & even Aleem. 'Touch Me' by Fonda Rae, Princess, Loose Ends, George Benson and all those kinds of things I was listening to outside of the B-boy scene."
A love of the proto house sounds that dominated the soulful dancefloors of the time inevitably meant that when the house sound itself dropped on UK shores, Simon was primed and ready to go. "Mr Fingers 'Can You Feel It'. That was the record, then Frankie 'Your Love'. Then the whole summer of love '88, it absolutely exploded, I went through that whole period - Raindance, Dreamland – I did them all."
However, as the rave scene began to migrate from its spiritual, uplifting roots towards breakbeats and chipmunk-like samples, Marlin was "done with it musically, it wasn't fulfilling me. It didn't have enough soul. That's why I wanted to come back and start something myself – the US house sound, the funkier house sound, that's what I wanted to project. I started my own club up in Leicester in 91. I started with 50 people in there, all friends and people I knew and I ended up having between 1300-1500 people on a monthly basis."
London Calling
As the success of his Pure Filth night grew, so did Simon's contacts book. He came to the attention of mix CD pioneers Journeys by DJ, who were seeking a tour manager for their mammoth 1993 tour. "JDJ wanted to do this tour – and it was about 80 dates in the end – I was like 'yeah I'll do it!'. It was that blag culture at the time, 'yeah I can do that, I'll move to London, blah blah blah'. We had this Toyota Previa, and I thought it would be a really good idea to stick Journeys by DJ on the side of it. So I literally went up and down the country, from the Arches in Glasgow to wherever in Jersey, London, Back to Basics in Leeds, all these nights we did over the course of 6 months with various different DJs, one of the first times that whole concept had been done."
By the mid-1990s, however, Simon had itchy feet again. "I didn't think I was a very good DJ at the time, and I thought my future lay more in getting involved in the record company side of things, and A&R. I got approached by a guy called Brian Harris [part of the production team behind Innocence], and he wanted to start a label called Downboy, and I was like 'yeah I can do that'." It would be on a Downboy scouting trip to Sweden that Simon would meet Max Reich. "I had a friend over there, a guy called Stefano, and he introduced me to Max and a guy called Sam, who were an act called Fused at the time, and I ended up signing them to a major deal with Sony. So I started looking after Max as his A&R man, and at that time I met Mousse T., 'cos I wanted him to mix one of the Fused tracks, and me and Mousse just hit it off. At the same time I had a little bit of a fall out with Brian about how he was treating Fused, so I left Downboy and said I'd manage Fused, then Mousse T. said, 'dude, I need you to come and work with me, and help set up Peppermint Jam in the UK.'"
 Eye of the Storm: 'Lola's Theme'
"It was about 2003 that I started thinking, you know what, I feel like I've got enough experience now, and enough knowledge about me, I was getting the itch to start doing this myself. I remember it vividly, I was sat at home with Lola, and we were playing through records, and she brought out a copy of Johnny Taylor, 'What About My Love' – those first 8 bars…shit! So, I went over to the pitch control, played it again, played it again, played it again." 
"Max was at the point in his career where he was thinking, 'maybe I'll go back to Sweden'. We were very close at this point, and I respected him as a producer and as a technician. I thought what's the best way to get this scenario where he feels something's moving forward. I called Max and said we're going in the studio tomorrow, I've got this idea, I think there's something in it. And that was 'Lola's Theme' – and within a week, we'd finished that record." The vocal hook came from the Fathers of Sound-produced 1990s club hit 'Love Me Tonight' by Anthony White.
'Lola's Theme' was also to be the first single on Simon's new label, Nocturnal Groove. "Mousse T. was really pissed off about it, which I understand, 'cos we'd built a lot together. I'm not going to lie, it was really difficult, and I felt I'd let him down a little bit by wanting to move on, but we're all good again now - really what I was doing was trying to follow my dream." Mousse T. adds :"I met Simon around 1996 and we clicked right away…his fave mix of mine was Ann Nesby´s 'Can I Get a Witness' back then :). He´s such a hard worker, which you'll obviously notice from his work nowadays but back then I was like, I want him to run Peppermint Jam UK. We had a dope journey, great records, a dope residency at the the AKA in London etc... and when 'Lola's Theme' came around the corner it was his time to move on. I won't lie, I took it really personally when he left and took a huge hit with him. Now I look back and understand, and I'm happy that we reunited a couple of years back. I love him for his big heart and for his unconditional love for good music."
Simon takes up the tale: ''I just pressed up 500 copies, I put a number and an email address on it, and I hooked the number up to an ansaphone. That was November 2003 - I just left it, Xmas happened, I went away to New York – I came back near the end of January, and the ansaphone was full. There was that palpable buzz – I pressed another thousand, and they sold that day. I said I'm not gonna press any more, I'm gonna let it simmer. I wasn't sitting there thinking 'this is a smash hit record' – this was just a record I loved, this is what I wanted to dance to and wanted other people to dance to. I went to Miami [Winter Music Conference, 2004] and literally it was everywhere."  
Eventually it was EMI-backed crossover dance machine Positiva that secured the rights to the track. "Jason Ellis [Positiva A&R] said to me he didn't get it until he came to my club at the AKA [upstairs at influential central London venue The End] and I played it – and you've got to remember it's still a pretty fresh record at this stage, and the place went nuts, and it was at that moment it clicked for him." Simon's residency at the AKA morphed from a Peppermint Jam night into a Nocturnal Groove one, and lasted some seven years until the club's untimely closing in 2009, and proved a vital testing ground for all Shapeshifters productions and remixes during this intense period.
There were follow up hits with 'Back to Basics' and 'Incredible', a collaboration with Nile Rodgers on 'Sensitivity', and an acclaimed album, Sound Advice. However, Marlin looks back with mixed feelings: "In hindsight I wish I'd never signed an album deal, I wish I'd signed it as a single – and then had the freedom not to have to chase what inevitably comes after, which is a major record company saying "can we have another Lola's Theme?". It's a difficult one, but I think getting caught up in the major machine side of things really took its toll in the long run. It literally was like riding a wild horse. I loved touring, I loved DJing, getting to do amazing shows – people like Pacha, Cream, Amnesia wanting you to do things for them. But that started to take away from the core of what I should have been concentrating on, which was music."
Defected in the House
Re-setting, the Shapeshifters knew exactly what they wanted their next move to be. "Signing to Defected came about because I'd never, ever stopped wanting to be a Defected artist, even whilst I was at Positiva. It was the first place I went, and I got rejected, I was like, 'I'm gonna prove to you I'm good enough to be on your label!'. Once I managed to get us out of the deal with EMI, I had  a load of ideas that I'd been sitting on, and 'Chime' was one of them, and I called Simon [Dunmore] and said I'm out of the deal, I wanna be with Defected. I know how you treat your artists, and I know what you're trying to do – and aside from anything, I think you're the best A&R man out there, and I need that."
Frankie Says
Simon Dunmore wasn't the only high-profile Shapeshifters fan who had been waiting in the wings for the right moment to approach the duo, as Marlin recalls with understandable pride. "The phone rang, we're in the studio making music, 'hi Simon it's Frankie, Frankie Knuckles - I just wanna say 'Back to Basics' is an incredible record, it's full of positivity, it sounds beautiful, I just wanna say well done – I'm playing in London, and I'd love you to come by, maybe we could grab some dinner.' And we went to dinner, and we became really good friends, and stayed close friends til the day he died."
The friendship and mutual appreciation inevitably led to collaborations. "He asked us to remix Nicki Richards 'I've Had Enough', and I said in return, do you fancy doing something together? So, I had written a song with Jenna G called 'The Ones You Love', and I said to him I'm going to send it over to you & Eric [Kupper]  – and I just want you to do that 'you & Eric thing!' Give me those lush pads, just Frankify the f**k out of this record will you! That still to this day is one of my favourite records that I've made. For many reasons, but mostly I think it's very reminiscent of what I do now. The way I put songs together, and the feel of records, is very influenced by Frankie Knuckles. That record, to do it with him, was like 'this is perfection'."
Starting Over
The early 2010s was a difficult time for all lovers of the soulful end of the house music spectrum, especially those artists who lived and breathed it ("it was another period where EDM was twisting our melon, and testing us all, but we just kept at it").Inevitably, this put pressure on a duo who had been living in each other's pockets for over a decade. It became harder to agree on crucial decisions about musical direction, and Max also dipped out of regular DJing. "I was out on the road on my own, coming back, trying to gee him up in the studio, but what I didn't realise was he wanted out, but he wasn't honest about that, but I wish he had been, so we wasted 3-4 years – when you get out of it, and you see it for what it is, we should have just knocked it on the head earlier. The straw that broke the camel's back, was I found out he signed a deal with Columbia, on an act named Clique, on Facebook. I was like, 'oh, ok…'. This was 2017. I hadn't any clue that he'd been working with somebody else, let alone to the point that he's going to sign a deal. And that really disappointed me, but it also made me stand up and say, ok we're done, this is fine, I still believe in what the Shapeshifters brand stands for, I wanna continue it – and you've gotta let me do that, 'cos you're obviously not into Shapeshifters any more. He just signed it all over, 'cos he was honest enough with himself to know that was the case. Everything conspired against the two of us working together the same way we used to. But when I did finally get to do it, it was literally like the weight had been lifted. I sat down and had a long chat with Simon [Dunmore] about it, and he was "you've just gotta start again." And that's what I did."
Glitterbox: Second Chance
The Glitterbox party ship set sail in Ibiza in 2014, with Simon Dunmore determined to bring not only some colour and flamboyance back to the White Isle, but also provide a musical alternative to the then dominant tech and EDM soundtrack. "Simon mooted the idea to me and I was like, 'yeah man I'm all over that'. We didn't play the first one, I think Dimitri played it, and Joey [Negro]; we played the second or third and it was me, Copyright, and maybe Joey again. There was about 50 people in there [laughs]. But we just stuck with it, because we loved it – irrelevant of who was in there, we just loved the music." That most reliable of marketing tools, word of mouth, did its job – the growth of Glitterbox would be both organic and rapid. "The Terrace at Space is when the magic started to happen. Then when it went to Hï, it just went to another level again – but that's also because the branding, the performers, the family that's involved with Glitterbox, everyone's invested themselves into it genuinely. I've got to give Si props for just doing something for the right reason, 'cos he loves the music, and he wanted to bring something with a lot more soul and depth, and inclusivity – all those things, all those clichés are REAL with Glitterbox. He's pulled it off with such magnificence, it's something to see. I'm really proud that I was there at the beginning, and I've gone through the journey with it."
When Glitterbox became a label as well as a club night, it was a logical home for the revamped Shapeshifters."I knew exactly what I wanted to do musically and in the studio, and I used Glitterbox as my basis – it was like symbiosis, two things happen and I'm like, this is the platform for me. It just inspired me, and I just started to make records for the Glitterbox dancefloor. All the ducks started to line up. I've got more engaged fans now than I did with the 'Lola's Theme' era, not just in numbers, but people that literally engage with everything I do. And that's because I've put my heart and soul into this, and I think that's really coming across in the music, and when I play. I've clicked with this group of people."
The Facilitator
"I'm a facilitator. I'm a producer in a quite old school sense of the word, I look at the likes of Quincy or Gamble & Huff, they're the guys I try to emulate, where they will use great musicians, great mix engineers – what I taught myself was to be able to lay chords and feeling down. And then I hooked back up with a guy that I worked with on 'Back to Basics', who did string arrangements for me, and brass arrangements, and that's a guy named Colin Smith, who'd become a great friend, but I hadn't worked with him for years and years. I started building a team around me, people that again could facilitate what was in my head. Then I would work with top line writers – and this whole process has been going on since 2017, and it's been getting more developed."
"Once I worked out the way I could make this happen, I was out of the traps like Usain. And still now I'm hungry - I feel like I've got a second moment, which is really rare, and I'm not going to let that opportunity go."
"I come from the Frankie Knuckles school, that's why I want to do things this way, and I'm lucky that I've found my people around me, and Si has been very instrumental – I wouldn't have been able to make these records without the support of the label. But not only that – when I do something, I trust his ears because we have that relationship, and the man has signed some of the best records that have ever graced our world, that's what's magic about it, and he's given me the confidence to go, 'I wanna do a string section, ok cool let's do it' – that's really rare in our world."
Finally Ready
"Simon had been sitting in Ibiza, watching Pose and thinking wouldn't it be great to work with Billy Porter. Literally a week later, they called him, which is just mad. Billy knew 'Life is a Dancefloor', and he loved it, and then I get this call form Si saying, 'Billy's coming over, I think you guys should meet, I think you're the perfect fit'. So, I played Simon all the demos, one of them was called 'I'm Ready', and he went 'this is for Billy.' So we sent the demo over - Billy's all over it, absolutely loves it, so Simon said let's hook up a meeting. We had a two hour meeting, then me and Billy went out for a coffee and a cigarette, and in that 15 minutes we got each other, outside of all the record company stuff and everything else, he just opened up and told me what he wants to do, and it just worked. It was one of the most magical sessions I've ever done…I think it's the best song I've ever made. And mixed by Steve Sedgwick from Gorillaz, that was the icing on the cake for me."
"I've just tried to raise the bar every time", says Simon, and this has certainly been noted by esteemed fellow producers. The master at work himself Louie Vega says,"The Shapeshifters have been on a roll with their recent productions in these years, their new single 'Finally Ready' with Billy Porter is an example of quality in a song, performance, production and music at its best." As 50% of 1990s remix titans Brothers in Rhythm, Steve Anderson knows all about filling dancefloors, but now as an in-demand producer / writer in the pop world and Kylie Minogue's musical director for two decades, he appreciates both the art and the toil behind a production like 'Finally Ready':"It's so good – I've always loved Billy, but it's so great to hear the musicality in the song and the arrangement as well. Properly crafted." 
Simon concludes:"'When Love Breaks Down' was the re-set moment, but 'Try My Love' was probably the one that redefined Shapeshifters for this next period. Getting the opportunity to work with Kimberly Davis for the last two has been amazing, and the whole team building exercise from 'When Love Breaks Down' to where we are now is what I'm really proud of. I've got this amazing situation going on right now, and that's why I want to make this album as great as I can make it."
'Finally Ready' featuring Billy Porter is available now to stream and download: https://gbox.click/060D
Get your fix of The Shapeshifters on Spotify: This Is The Shapeshifters