'Slave to the Rhythm' is a clarion call to the dancefloor for Glitterbox fans. It is also one of many career high points for Grace Jones. It was released in 1985, the culmination of a staggering five year run of groundbreaking music, and the same year in which she starred as Bond villain May Day; and was one of the most photographed women in the world. Join us on a whistle stop tour celebrating the life and times of the ultimate glass ceiling breaker and style icon.
Queen of Paris
"In Paris, I felt like I'd arrived where I belonged. I was what the French needed, and I needed them." Born in Jamaica (exactly when has been the topic of some debate but 1948 is the consensus) and moving to the USA as a teenager, a young Grace Jones initially targeted a modelling career in New York. At a time when opportunities for women of colour were limited, Grace's uncharacteristic, idiosyncratic looks and attitude proved a barrier in a scene that was far less edgy than it would like to think. "I was an outcast because of my funny accent, the colour of my skin, a strange looking face according to the New York fashion world, and because in so many ways I didn't fit in." Frustrated, Grace determined instead to conquer the fashion capital of Paris, moving to the French capital in 1970. In tandem with her room mate, a young Texan model called Jerry Hall, she soon achieved her goal, and would return to New York later in the decade with an impressive portfolio (Vogue covers, Helmut Newton photos, Yves Saint Laurent commissions), a taste for the most hedonistic nights out the club scene could offer, and a determination to show NYC what it had been missing.
The Disco Trilogy
With a burgeoning reputation and a couple of singles under her belt recorded in France, Grace secured a record deal with Island Records, at that point riding high having made her fellow Jamaican Bob Marley a global star. Between 1977-79, at the height of the disco boom, Jones recorded three albums with legendary producer Tom Moulton. Portfolio, Fame and Muse. In truth, the results were mixed. On paper, the mix of disco-fied show tunes, Gallic torch songs and dancefloor-friendly originals must have looked a good idea. However, while Moulton's production is typically classy, Grace felt she was left out of the creative process, and consequently had yet to forge her distinctive vocal style (she was always frank about her initial struggles with this: "If I could have sung like Aretha Franklin, I would have, but I couldn't. If I could have sung like Chaka Khan, I would have, but I couldn't"). However, the trio of albums did serve up some notable moments, including her first bona fide club hit, 'I Need A Man' (reworked from its original single release in France and the track that secured Grace a large following in the LGBTQ+ community); and 'La Vie En Rose', her take on French singer Edith Piaf's signature song, and the best example here of that vocal style that would serve her so well in the following decade.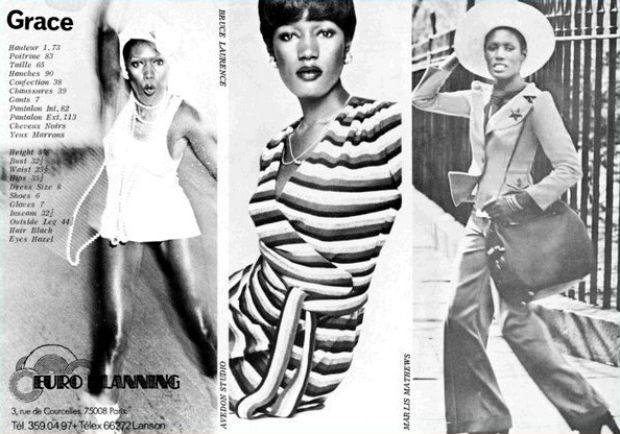 Queen of New York
Grace had returned to New York at an opportune time, as the city was arguably the world's cultural nerve centre. It basked in the musical spotlight thrown on it by the near-simultaneous eruption of disco, hip hop and punk; throw in a vibrant jazz and salsa scene, minimalist experimentation, a thriving arts community, and a clubland second to none, and it was undoubtedly the place to be. In the late 1970s and early 1980s, Grace threw herself into the maelstrom. She broke through the glass ceiling that had previously held back models of colour, in so doing paving the way for the likes of Naomi Campbell and Iman to take the 1980s by storm; and became a pivotal figure in the city's creative scene. Our pictures show Grace with: (1) with Paradise Garage DJ Larry Levan; (2) fellow model Naomi Campbell.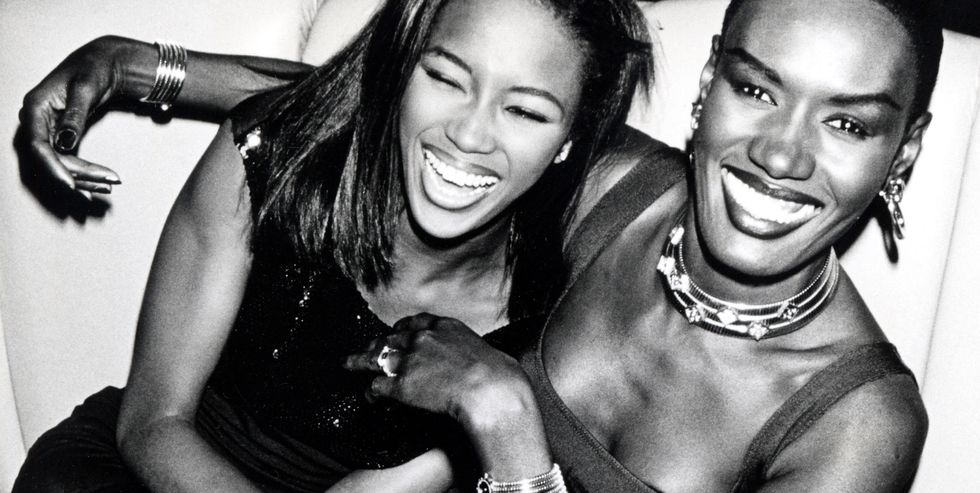 The Compass Point Trilogy
As the 1980s dawned, Grace was a high-profile figure in influential circles, but as a recording artist she had yet to truly break through. With the disco backlash in full swing, ever-enterprising Island Records boss Chris Blackwell took control of Jones's recording career, and planned out an innovative new direction. At his Compass Point studios in Nassau, alongside dynamite Jamaican rhythm section Sly & Robbie and multi-instrumentalist Wally Badarou, they determined to make music steeped in Grace's distinctive identity. "I was after a mix of the very Jamaican, a very organic groove, with something technologically brand new." Together, they forged a new sound that was equal parts reggae-inflected rhythms, new wave attitude and a beating electronic heart. The crack team worked on three groundbreaking albums:Warm Leatherette, Nightclubbingand Living My Life. "We would try out the mixes at The Garage, which had the best sound and most sophisticated system in the city, and therefore the world, at the time". The musical innovation was married to striking imagery, much of it shot by Grace's muse Jean-Paul Goude. An androgynous, other worldly look emphasised Grace's stunning cheekbones, jawline and dark skin, her mix of masculine and feminine ("I am very feminine, but I am also extremely masculine – I've got these two things going on") , and screamed out for attention. The music lived up to the visuals, as evidenced by our two classic selections here.
Grace Goes to Hollywood
 Bond A View to a Kill poster with Roger Moore / with fellow Bond villain Christopher Walken: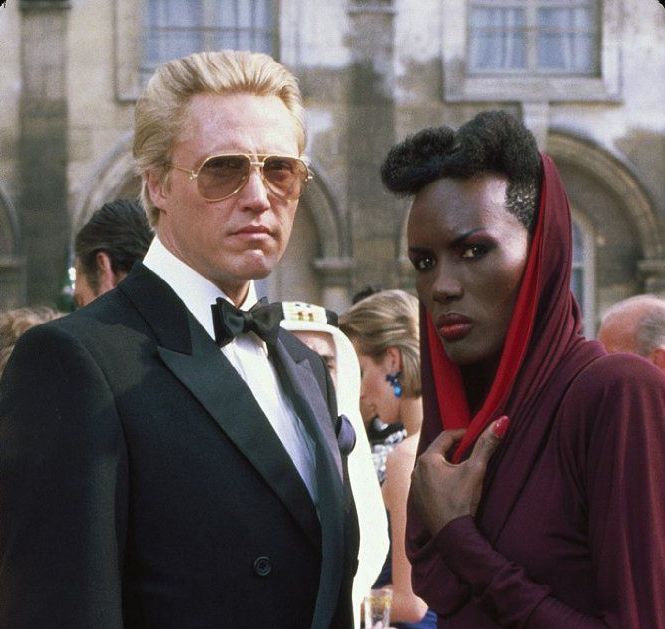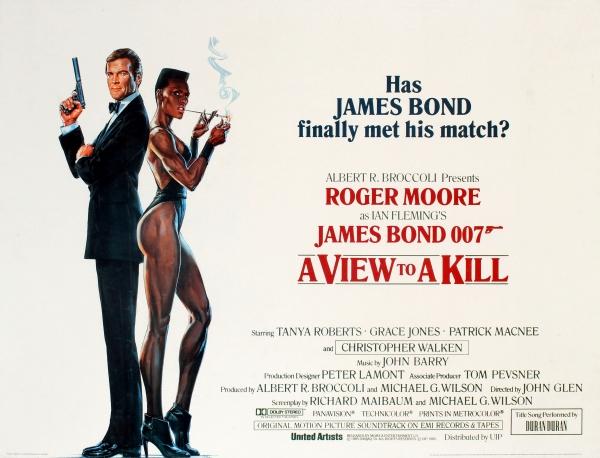 Grace has it covered #1: the music
The Compass Point albums included Grace cover versions of songs from a wider variety of artists, among them Roxy Music, Iggy Pop and Smokey Robinson. Several were released within months of the original version, but Grace and her team always made them sound very much her own. 'Private Life' saw her take an album track by Chrissie Hynde's Pretenders into the upper echelons of the charts; while the strength of the material she had to choose from in this period is demonstrated by the fact that her revision of Joy Division's 'She's Lost Control' was only a B-side.
Grace has it covered #2: the looks
3 x magazine covers: Essence / Blitz / Vogue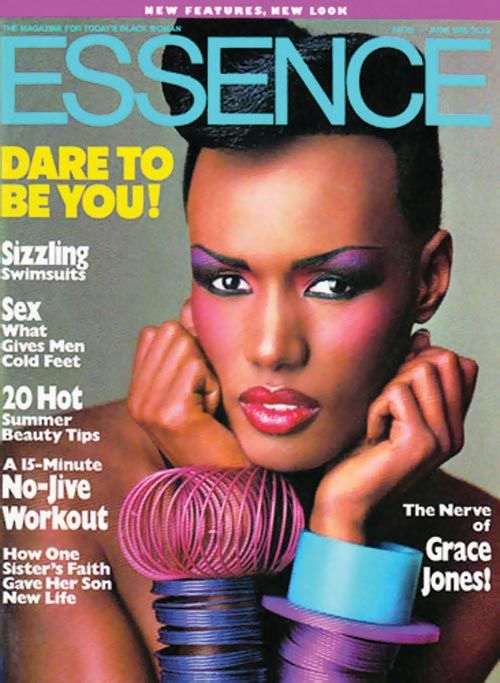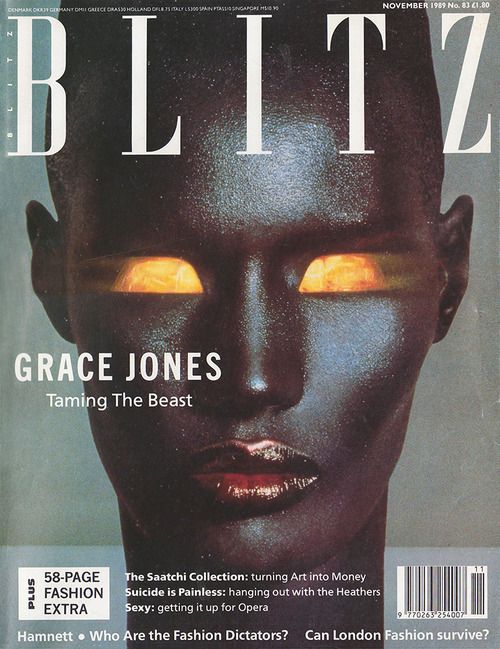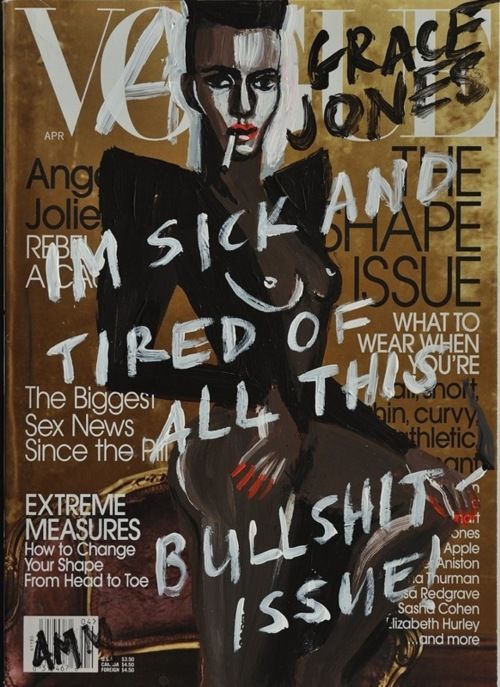 3 x record sleeves: Nightclubbing / Pull Up to the Bumper / Island Life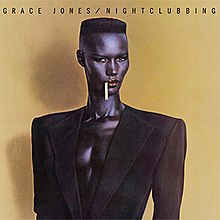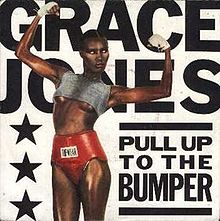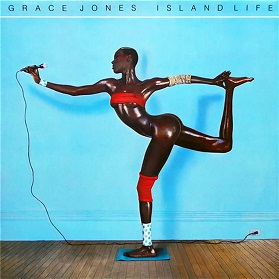 21st century Grace
Grace's late 1980s albums, for EMI rather than Island, failed to hit the same heights as her earlier golden streak; and the 1990s as a decade was, by her own remarkable standards, relatively low key. However, the 21st century has seen this cultural chameleon rightly cherished and celebrated, and she shows no signs of slowing down as she enters her eighth decade. 2008 saw the release of the acclaimed Hurricane album, with many of the Compass Point team back in the saddle with her (not to mention Brian Eno and Tricky), the release managed by cult London label Wall of Sound and their European independent powerhouse partners at Play It Again Sam (a dub version of the album followed in 2011).
She performs regularly at festivals worldwide (our clip is from New York Pride 2019).
She also gave us a glimpse into her world with the documentary Grace Jones: Bloodlight and Bami ; and revealed more in herautobiography I'll Never tell My Memoirs (from which all our quotes are taken). Grace Jones has transcended norms throughout her storied life, be it in style, music or gender conformity. A rebel with many a cause, a risk taker, and ongoing inspiration to the Glitterbox family. 
"My shaved head made me look more abstract, less tied to a specific race or sex or tribe, but was also a way of moving across those things, belonging while at the same time not belonging. I was black, but not black; woman, but not woman; American but Jamaican; African but science fiction. It set me outside and beyond, in some sort of slipstream, and instinctively, I liked that it was a way of expressing I was flexible…it was about change, and changing my mind, and through it I could express how I was always becoming someone else."
Listen to the Glitterbox Radio Show (Episode 168), The House Of... Grace Jones -