WORDS BY NICK GORDON BROWN
Horse Meat Disco have made a record you really need in your life. Love and Dancing takes disco as a starting point, adds 21st century gloss and savvy – and then, both musically and lyrically, digs deeper. The Horse Meat Disco team and their extended family guide us through the album.
"In 15 odd years of doing this now there has never been an argument. We're all pretty easy going." James Hillard is musing on how the Horse Meat Disco quartet share out gigs, and has unwittingly hit the nail on the head with regards to their longevity – friendship, positivity, and an overwhelming urge to share their collective love of music with whoever wants to listen. It's actually 16 years as HMD, but before that, all four had been musically immersed for years – be it as DJs, party throwers, journalists, label runners and perhaps above all as fans and collectors. That wealth of knowledge, expertise and love has now been transferred from nightclub to studio. Love and Dancing is the spectacular result.
The Mothership
At the root of it all is Sunday nights at The Eagle, the bespoke party that the quartet refer to as the mothership of all that they do. "We didn't even think it would last very long or break even let alone be a viable way to make a living,"says James, ruminating on how a chance conversation with much loved / missed New York artist and DJ Adam Goldstone (then recording for Nuphonic, where James worked) kickstarted the Horse Meat adventure.
"One day when we were having a coffee in Soho we got on to the subject of the London gay scene. I felt a bit of an outsider in every scene at the time and musically there wasn't enough disco! Adam just said very casually, 'You should start a night'. It really hadn't crossed my mind at that point that I could throw a party. I told him that I didn't know enough people, so he said, 'who do you know who does?' Jim instantly came to mind. We had been introduced by Severino at one of Basement Jaxx's Rooty parties in Brixton and we hit it off right away. The Cock (the party he was throwing at the time) was the hottest ticket in town. Musically it wasn't a million miles away and the crowd and vibe was right so I approached him. The rest is history!"
We spoke to Luke and Severino about the musical roots that helped forge Horse Meat Disco's broad disco palette, read HERE.
Billed from the off as "a queer party for everyone", and with disco "the great musical leveller" as its starting point, it struck a chord with open-minded partygoers from day one.
The Disco Spectrum
"It's kind of ironic that disco was really, really huge when there was turmoil in the world, and it had a real function. It really helped people, saved people's live. There was racism, there was riots, there was hell. There was Ronald Reagan. That strife, it's kind of happening now. And people are going to hear it [Love and Dancing], and I'm sure the message we've got there. For me that was a big part of the songs I was involved with." Jim Stanton is energised. We live in tumultuous, challenging times, and he sees and hears echoes of Disco v1 in the 1970s. Luke Howard adds:
"I suppose disco music was always very important with that community - not just the gay community, but women, black people, the Latino community in America, they were the ones who created disco, because it was like dance your way to freedom in a way. That sounds a bit trite, because there's a lot more to politics than just dancing, but it was happening at the same time as those kind of liberation movements were going on. It felt like it was the soundtrack to people finally feeling a sense of optimism, a sense of hope, a sense that their lives could be better."
Musically, the album reflects and builds on disco in the broadest sense of the word, as Severino Panzetta explains:
"We've always been very open-minded people. It's called disco as a word, but it's always been whatever we like. In the beginning we were even playing the beginning of Electroclash, LCD Soundsystem, James Murphy (from LCD) is kind of disco, but more like punk disco or whatever it is. Being open-minded, 360 degrees of music because that's what we like, all of us four."
James warms to this theme:
"Initially we described the music as Discolated Thunk Music based loosely on the Mutant Disco compilation on Ze records. I have always been a lover of disco music, thanks in part to my dad who was a local DJ and record collector, so I had always envisaged a party with that music at the core. Disco music and gays - not rocket science but it was very rare you heard disco in gay clubs then. Disco is a spectrum. We're not purist about it. It's also the origin of pretty much all dance music so it's as relevant to techno as it is to house music, and for those who love either they can trace the roots of their love to the disco era. I always like to think of disco as techno's lube! We all need a little foreplay before you stick it in, right?"
The Fifth Member
Classic Music Company supremo and DJ /producer par excellence Luke Solomon is very much the George Martin to the Horse Meat boys' Beatles – a role he has been more than delighted to play. Howard and Solomon discuss the creative partnership between band and producer.
Luke H: "I had this conversation with Luke Solomon, saying his Powerdance project is exactly what I'd imagine Horse Meat Disco's music would sound like, and then I told him about our demos. He listened to them, and said 'There's loads to work with here, we can do something with this.' It was sitting there, and then we started to get serious and do something with it after all those years. Luke Solomon - without him it wouldn't have happened."
Luke S: "Working with Horse Meat Disco came about in a roundabout way through friendships and music that they'd already built up with Darren Morris. They'd been in the studio, they had a lot of instrumentals, and I'd been trying to encourage them for ages to just develop them into songs. Initially it was all about the songwriting, we were trying to get the song and the moments happening, and make it representative of all of their individual tastes, and their collective tastes. It was then about how do we want it to sound, about trying to reinterpret the authentic sound by using lots of live instruments, lots of live musicians, great songwriters, great singers, but then to push the boundaries with the sonics of the record." 
Luke S: "With that in mind there was a different process to working with James or Jim or Luke or Seve in variation. Because we are such a close group of friends it was very easy to get inside their heads and know what worked with them and what didn't work, and not to push things when I didn't feel it was working, and to push things that I felt could be developed more because they were more into it, or each of them had their passion about various songs and different instances. So with all those things in mind as a producer, you start to play on people's personalities and characters, and try and build on that and bring that out of the songs, so that everyone is represented equally and individually. I think that's representative across the whole album, essentially. It's easy for me to get in their heads and be the facilitator in all of those things."
The Extended Family
Love and Dancing is a family affair – and it's some family. The horse Meat boys, Luke Solomon and friends and collaborators Amy Douglas and Kathy Sledge talk us through how the album was painstakingly pieced together, and introduce us to the multi-talented ensemble involved in its creation.
James: "It all really started from being in my bedroom with Darren [Morris], and we'd all get together, we'd listen to music, we'd play around with a few things. Try and do like a demo in a day. All by playing records to each other, things that we really liked, influences we wanted to bring in. At that time it wasn't really about putting an album together, it was just about making music with Darren on the keys, interpreting and bringing out what we were suggesting, and thankfully we found someone who was able to pick up on what we wanted, deliver it, put it together and put it in a really coherent musical form."
Luke S: "As the album progressed and we got the songs, we worked towards collaborating with people that were part of the initial writing team and production team, including Amy Douglas, one of the initial singers on the album. I'd worked with her previously, she was very good friends with Jim Stanton, and it all felt appropriate."
Luke H: "Amy Douglas for one has been a real massive part of helping us to write songs and she's performed on lots of the tracks as well, she's so talented. Working with someone like Amy's amazing 'cos she just gets the job done. She's so gifted, she's such a great musician, and a singer and a songwriter who immediately will come back with ideas."
Amy: "I remember first hearing about Horse Meat Disco right around the time I started to work with Juan MacLean on the first Peach Melba single for DFA, 'Can't Let Go', and the single resonated with one of the members right away, this being Jim Stanton, my Aquarian brother of brothers of course, and Juan was an occasional guest DJ at Horse Meat Disco in London. I was first and foremost blown away that they had been going full throttle and strong so long, that the party had such great legs and community driven around it. These are core values I really cling to. On and off throughout the years, I'd heard here and there from Mr. Jim and we'd stayed in touch and became penpals so to speak, and then when I began working with Luke Solomon on his Powerdance project and subsequently the first duet I did with Queen Rose called 'Light You Up', he asked me if I "wanted to get in on the Horse Meat Disco record" and of course, I said YASSSSSS!"
Luke S: "We started to set a wishlist of singers that we wanted to add to these instrumentals. With that in mind, Kathy Sledge was the top of that list. Simon [Dunmore] had a previous relationship, and I thought well I'll just give her a shout and see what happens, thinking she can only say no." 
Kathy: " I had done some things with Simon years ago with Roger Sanchez. We always had this rapport, as artists and musically. And it was Simon's idea to hook me up with Luke Solomon and the guys from Horse Meat Disco. Ever since it's been really incredible working with them." 
Luke S: "I sent her a song the Horse Meat boys had written with Roy Brown, ROY INC, who works with the boys at The Eagle, who's a singer and a songwriter, and actually sang on the first song that we did together. They'd written a song called 'Falling' and sent it over to me. I did some production work on it and then we just sent it to Kathy with the top line on. And she came back straight away and was like 'Yes, I love it.' Another song was 'Jump into the Light,' which we wrote with her in situ. She came to mine in the studio with Luke Howard and the boys, and Chris Penny, who was heavily involved in the album."
Luke H: "Chris Penny, who's an amazing songwriter, instrumentalist and singer, he's helped with a lot of the tracks when we've been stuck, thinking 'This is good but there's something missing', and then we'd get Chris involved, and he'd just come up with some great ideas."
Kathy: "We were a writing team, which is different for me, because a lot of times, I like to get the track from musicians and from producers. That's where I really think musicians, you really respect each other's ear. Lyrically, if one person couldn't feel what the next line should be, the other person instantly got it. So the formula and the chemistry worked really well. It was so, quote unquote, 'old school recording', and I like that, because it's real, and it's raw. Maybe we even did clap tracks. You don't have to do that anymore! The cool thing is that I think when you do work that way, artistically you grow, and artistically you give more. You feed off each other's energy. Chris Penny I think is a dynamic writer, I love his grooves."
Amy: "I much prefer this method, if only we could have gone MORE old school and done it ALL in house together, I am as old school as old school gets when it comes to making music.  Everything I do personally begins with a piano and the voice and the idea and that's it. I love the pool of talent that went into making this record and would have loved to exist in a vacuum in particular with Darren Morris and Lance Desardi for about a week."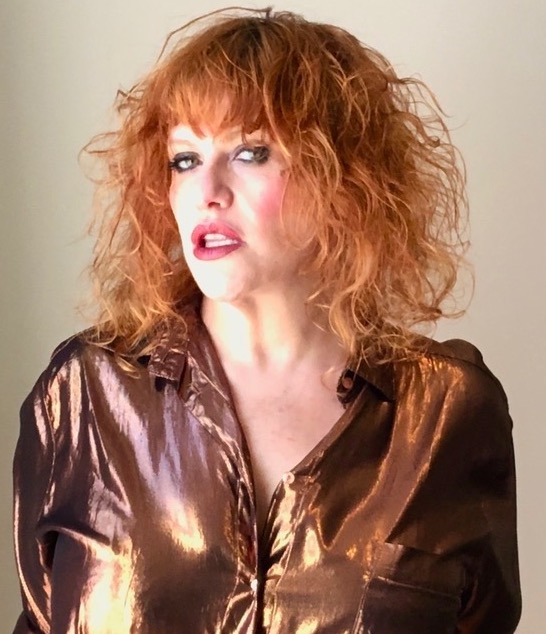 (Pictured: Amy Douglas)
Luke S: "Lance Desardi was very much implemented in the sonics of the record, and how we made it sound, and tried to make a contemporary version of disco. House music, punk funk, soul, it's all in there essentially. We had some other collaborations, Phenomenal Handclap Band, Doug Hiller, Valerie Etienne from Galliano, amongst showcasing some new talent, some new queer talent as well, using people like Fiona McLuskey, who's a dear friend of mine. So it all kind of pieced itself together. Then we started working through the album, N'Dea Davenport was another name that came up. The boys had a relationship with her, we got in touch. We had an idea for a song, she wrote some additional lyrics to a chorus we'd developed, and that was another person that added to it."
Amy: "There is also a cast of talent in the vocal pool on this album that is really humbling to be near, in particular N'Dea Davenport.  She doesn't even remotely understand what a hero she is to me and I didn't get a chance to tell her this in person, so I hope she'll read this in print and feel the gravitas of that statement. ROY INC is such a fabulous animal in all arenas, if you locked us away for a while we'd have given you some incredible stuff too."
Luke H: "ROY INC, he does the door at The Eagle, he's helped write some songs, and he's been someone really positive. When we've been stuck with a track, and he'll have heard it and said 'I've got a good idea for a song or for a melody.' It's almost like adding all these different ingredients has helped to make the album what it is. So, you couldn't wish for a better group of people to be part of this amazing project with. We've worked with Fiorious as well as Mighty Mouse on Give Me All Your Love, JKriv on one of the tracks as well when we were stuck, and maybe we thought he could do something with this that will just lift it up a little bit. So, it's a massive collaborative effort, and we're so lucky to be working with such talented people that believe in us and believe in the project, as well as Simon Dunmore giving us the opportunity to do it. Without him it never would have happened as well, because he was the one who gave it the greenlight and said 'Yeah, I believe in it.'"
Luke H: "We've been with Glitterbox from the beginning. We were so happy to be included in that, because for us it was a really big deal." 
Final Words
Love & Dancing, from conception to creation and execution, is full of heart and soul. Despite being a disco album at a time when discos are closed, it captures the zeitgeist, not only musically with its sonic smorgasbord, but also lyrically. By turns uplifting and challenging, it succeeds in marrying escapism and activism, and in so doing aims to coax us all to indulge in both (Jim: "It's about fighting, and embracing joy, and love, basically"). A celebration of hope and positivity when we most need it.
Jim: "For me, this album passes the test of all albums that come from groups that are based in discotheques and clubs. For me it passes the stay at home test. So it's got all the elements that you need: it's got high octane, it's got sleaze, it's got kind of new wave, it's got everything. It's kind of grandma-friendly, you know!"
James: "We're just 4 decent guys who bring a vibe that fits every situation!"
Seve: "That's our spirit, the spirit is all of us four. The hope again to come back to the reality that we're missing - love and dancing and getting together."
Amy: "These are dark horrible times. If this is a bright spot in an otherwise dreary day? I did my job. The end."
Luke H: "All this stuff, like having an album out on Glitterbox, even at the beginning just DJing at Glitterbox was like something that was great for us, and now to be part of the family, to be putting new music out, is massive, it's huge for us, it's amazing. We are a night at a pub in Vauxhall! Yeah, we've been going for 16 years, but that's where we come from. We're just a bunch of DJs putting on a fun party on a Sunday night. And to be now putting out an album and working with people like Luke, with singers like N'Dea Davenport, Kathy Sledge, Amy Douglas, is just amazing. It's a dream come true." 
'Love and Dancing' is available to stream, download and on 2 x 12" vinyl at https://gbox.click/LoveAndDancing