We have rounded up the Glitterbox crew to provide you all with an uplifting series of online sessions - from dance tutorials to drag make-up lessons and general isolation tips, our beloved Glitterbox queens will be live streaming direct from their homes to yours.
In the absence of club nights, Simon Dunmore describes his vision for keeping the Glitterbox magic alive; "Music and clubbing are an escape for many and, with social gatherings rightfully restricted, we wanted to connect people online in the hope that they appreciate they are not alone." With our performers and DJs currently unable to connect in person, or to let loose on the dancefloor, we're hoping our Instagram Live series will offer a few hours of escapism, and a feeling of solidarity to all those in isolation. 
Using this time to channel their creativity, our Glitterbox ambassadors have been sharing their skills and taking this chance to get to know their fans better at a time many are finding challenging. Launching the series of online tutorials and Q&As.
To round off what has been a special set of live streams from some of our Glitterbox Family, style queen Kaya Azalea gave us a glimpse into her wardrobe which can only be described as mesmorizing; answering all of our burning questions.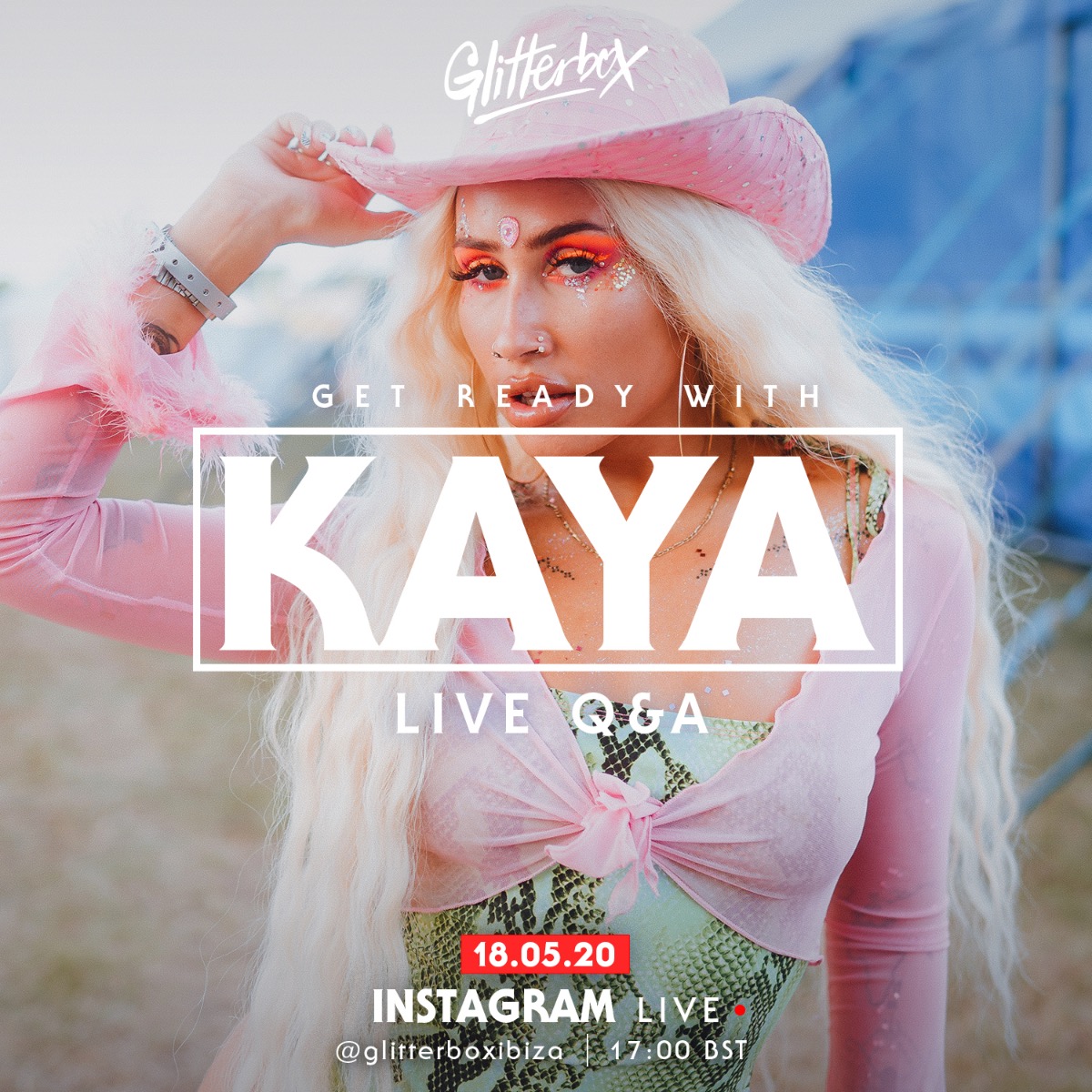 Carlie Carpenter had all of our creative juice's flowing with her tee customisation class, showing off her epic skills whilst giving us some handy tips. For more like this check out Carlie's own fashion brand @respecttheeffect providing bespoke accesories perfect for Glitterbox dancefloors or a lockdown living room party! 
We were honured with a live beauty tutorial from the makeup perfectionist Reece Le Beau, just because we have no one to show it doesn't mean we can't still look fabulous! We had a chat with Reece shortly after his live to get the low down... 
Hey Reece, hope you're well! Thanks for answering a few questions we would love to know more about your journey with Glitterbox and of course about your unreal makeup looks!
What have been some of your inspirations in your makeup looks? 
I've always had a massive love for make up and wanted to push myself to become to a point i'm really happy with. I'm inspired by many things but the art for drag and expressing myself is a big part. So, when I saw boys start to wear beauty make up, I instantly fell in love. 
What are your all time favourite products to use when painting your face?
Good question, i'm in love with many high-end products and drug store at the same time! I love makeup revolution, maybelline, jeffree star and morphe to name a few.
 How has lockdown been treating you, can we expect anything new upcoming on Instagram, makeup looks, dances etc…
I'm trying to keep myself busy, pushing myself everyday with new, challenging makeup content. I start my week out by researching and planning new looks that test my skills and push me as an artist. I'm currently working on my first ever  drag virtual party. Just to show people queer performers from across the city and have a good laugh! I'm very excited about.
You have been part of the Glitterbox family for a few years now, do you remember your first Glitterbox party
Yes I do, god what a night!! It was summer 2018 in ibiza for the Glitterbox opening. My first time dancing in a club and I felt like I was in wonderland. Just felt like a dream I have had my whole life and it finally came true. I was just so excited to carry on and find out more about Reece Le Beau.
Your outfits are always on point, do you ever repeat outfits for different performances?
Thank you! Yes I struggle to always buy new things, custom outfits are expensive!! But I love the stuff I wear, expressing my androgynous side is something I love to do and wearing a thong and heels makes me feel I can conquer the world.
How did you find your Instagram live tutorial, have you seen your look re-created yet?
I loved it so much! I love interacting with people and getting to see the instant response! I love expressing my story and showing if you put your mind to something you can get it! I'm now in my dream job and on there instagram live being silly and playing with makeup! Thank you!

Finally, thanks for being part of the family, we are so excited to party with you again! Can you describe your Glitterbox journey in 3 words?
   Wild, Fierce, Unstoppable
We then had the fabulous Karteer Mugler enlightened us with his skills performing a live voguing tutorial, taking us through his routine step by step.
The life and soul of the party Lucy Fizz joined us for the fourth instalment of the live series in an interview with jornalist Tracy Kalawik, a chance for us to get to know Lucy, talking about her early raving days, the start of her Glitterbox journey and where her infectious energy comes from. 
"You only get one shot at life and you've got to make the most out of it and do what you love... I'm so lucky I get to do a job that I love" - Lucy Fizz 
Dancing queen Harvey Rose gave a live dance tutorial on Monday 13th April, ensuring we are all well prepared for the anticipated return to the dancefloor. Wether you have tuned in to strutt your stuff with Harvey or are yet to, we wanted you to get to know him a little better... 
Harvey, you're one of the newer faces to Glitterbox – are we right in saying Ibiza 2019 was your first? You've had no trouble fitting right in… Tell us a bit about yourself?
It was my first, and it was bloody fabulous! As soon as I stepped in to the club and saw the party people and performers I felt right at home and the minute I was asked to join the Glitterbox family it was a SOLID YES! 
I've been dancing my whole life since I was 8, and I remember telling my Mum when I was younger that I was born to dance. The minute I hear the music, the minute I'm on the floor my feet are just itching to move and I just want to smile and laugh and boogie with all my sisters and loved ones. I've always had a zest for life and music is my theme song! I'm confident and I take every opportunity I possibly can so when this glittery door opened I cartwheeled straight through. 
What's been your proudest moment so far as a dancer and choreographer?
I'm proud of every single thing I've done and I'm so privileged to be able to do something I love so much as my daily job. I'd say my top 3 pinnacle moments of my career would be, New Years Eve 2019 performing at Glitterbox in London, flying to Israel to perform for one of Israel's most famous pop stars and walking the pride parade for Leeds. Those were some moments that I had to really stop and take it all in, and appreciate how beautiful and exciting life can be.
Favourite record to dance to at the moment?
At the moment my jam would have to be Second Chance by The Shapeshifters… the club mix of course!
Where are you spending the lockdown, and how are you finding it?
I'm spending the lockdown in my flat with one of my nearest and dearest, we're binging on the best movies and having our own little discos at home. It's fabulous!
What can we expect from your Glitterbox Instagram Live session?
I'm hoping to get people on their feet dancing with me, I want to give the Glitterbox fans a little dance that they can learn and do for themselves. Let's keep fit and active even if we're stuck at home.
Finally, a very warm welcome to the Glitterbox crew, we can't wait to see you back in your element on a Glitterbox stage somewhere in the world! How would you describe your Glitterbox experience so far in 3 words?
FUNKY, FRESH and NOW!
PS. Please can we borrow that white beaded cape some time ;)
On one condition… once the lockdowns over we have the BIGGEST most FABULOUS party!
The second live video in the series featured Glitterbox performer Gisele, a self-taught make-up artist who started their career working for MAC Cosmetics. Gisele offered a drag make-up masterclass to help fans achieve the dancer's striking looks at home. We caught up with the make-up artiste right before she went live...
Thanks for taking the time to answer some questions ahead of your first Glitterbox Instagram Live Session, where you'll be doing a drag make-up tutorial. Those that follow you on social media will know that you create the most INSANE high-definition make-up looks, everything from horror and high glam to abstract and monochrome illusion, as well as being a dancefloor queen for Glitterbox. 
Tell us about your journey through make-up?
I first started makeup in 2013. I randomly tweeted an image of a face paint which I created on my housemate, somebody from MAC Cosmetics then got in touch and asked me to apply. So I learned basic makeup skills through working on the counter amongst other artists, as well as practicing at home and on friends. Then the more I challenged myself the more I learned. I started drag in 2015, and that really boosted my artistry. 
What's been your proudest make-up moment so far?
One of my recent proudest moments was when World Of Wonder used a close up image of my makeup to advertise RuPaul's Drag Con LA on their social media. I knew nothing about it until friends kept tagging me in the image.
Your style is extremely versatile – where does the inspiration come from? Will you be trying out anything new during lockdown?
I take inspiration from almost anything, even music! I love challenging my creativity and creating makeup looks inspired by the most random of things.
I've been challenging myself during lockdown by working with texture, trying out different techniques and creating makeup looks which resemble marble, limestone and other artistic mediums.
Do you remember your first Glitterbox party?
Yes!! It was at Hï Ibiza in June 2017. My first party was Basement Jaxx and Roger Sanchez. I don't think I stopped dancing the entire night and had the biggest smile on my face. 
What's been your favourite Glitterbox look that you've created?
One of my favourite looks I've created was a purple and gold glitter eye to match a hooded sequin jumpsuit which had been made for me. I wore it with big gold hoops and a blonde mohawk for one of my sets. I felt very Studio 54 that night.
What can we expect from your Live tutorial?
I'm going to be teaching a standard 'drag style' eye makeup. Something people can take little tips from to maybe try at home for themselves. There'll definitely be glitter! 
Finally, thank you for being part of the Glitterbox crew, we really cannot wait to be back on the dancefloor with you! In a few words, what does Glitterbox mean to you?
Glitterbox means the world to me. Absolutely everybody involved in the brand has the same ethos. It's such a positive vibe and I love how music unites us all and brings us together. We feel like a family.
Our very own grande dame of the dancefloor TeTe Bang offered her tips for self-isolation. A star of the UK drag scene known for her fabulous handcrafted costumes, TeTe shared her advice for surviving the lockdown and how she's staying busy. 
Plus there's much more to come for those missing their Glitterbox fix - keep your eyes peeled on our socials!  Remember, we will meet again on the dancefloor soon - #stayinside and be safe!