Pre-downloads, pre-streaming, pre-easily accessible internet, pre-Shazam, pre-social media, the record shop was where you found out what the tunes were that you had heard out at the weekend, where you discovered new music, where you stayed ahead of the game, be it as a DJ or within your clubbing circle. It's where you picked up flyers for parties, got chatting with like-minded souls who all lived and breathed the scene, and soaked up the knowledge from behind the counter. Here we revisit those times, and also look at how stores have survived and thrived in the 21st century.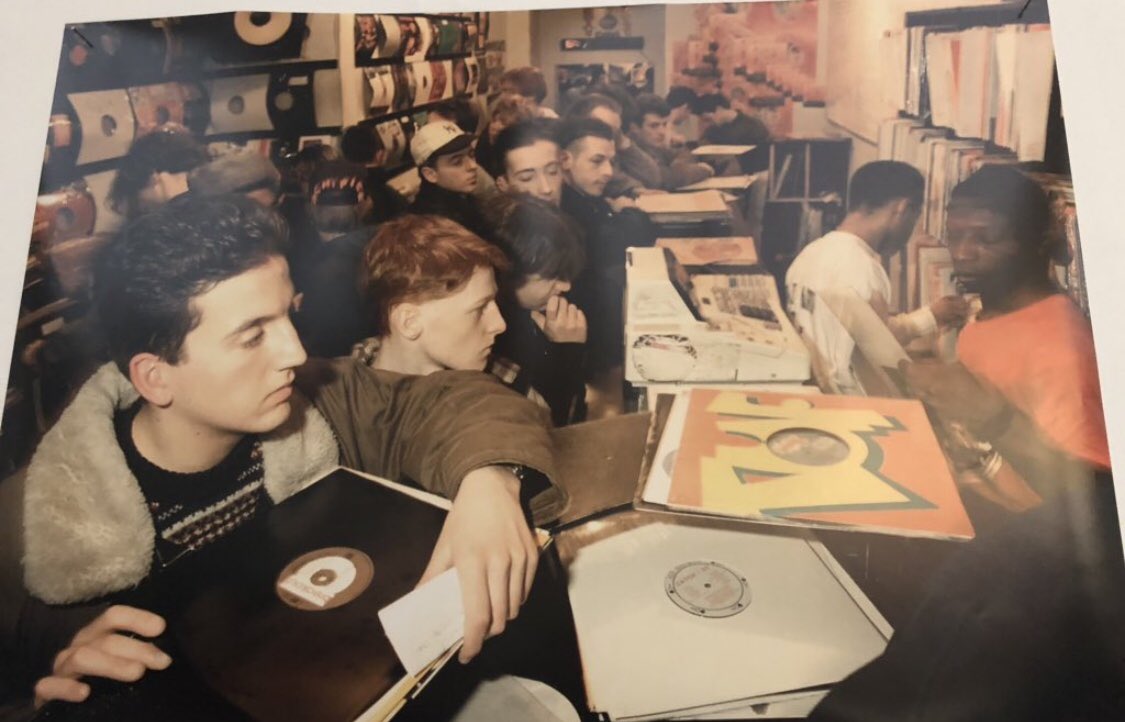 Vinylmania and the Paradise Garage
"The first time I went to Vinylmania was right after partying all night at the Paradise Garage, since it was only a few blocks away. It was especially great to go there right after leaving the club as the music would be so fresh in your mind! That morning, I was looking for records like Gwen Guthrie's 'Seventh Heaven', Baricentro's 'Tittle Tattle' and Taana Gardner's 'Heartbeat.' That was my first time in a record store where I'd ask for rare music, and they not only knew all of the music, but they also had 96% of what I wanted."* The words of Franklin Fuentes, who would soon become a staffer himself at Vinylmania, summarise the synergy that existed for decades between clubland, and the stores that served its DJs and dancers – in this case, a synergy that allegedly saw this one record shop sell 5,000 copies of 'Heartbeat'.
When Garage resident maestro Larry Levan himself became a customer, the interaction would develop further, and soon a chain reaction developed: Vinylmania would sell a new release to Levan, he played it at the Paradise Garage, the club's regulars descended on the store in droves to buy it, record company scouts and radio DJs picked up on the buzz, and a hit was born. Many of the employees would go on to DJ, produce or form / work at record labels. That the humble record store was the essential ingredient for this process cannot be overestimated. They were, quite literally, the heartbeat of the scene and its attendant community. "Music is the most important thing in the whole world," says owner Charlie Grappone – you can read an in-depth oral history of this groundbreaking store here*, or watch here:
Gramaphone – a home for house in Chicago
At the birth of house music, Chicago had its own epicentre, Gramaphone Records. Whereas Vinylmania eventually gave up the bricks and mortar ghost and went online in 2007, Gramaphone is still going (albeit currently in reduced circumstances), former customer Michael Serafini being its current managerial custodian. Many a DJ has manned the Gramaphone counter, as DJ Sneak told the Chicago Tribune: "For me it was like a middle school, before you graduate and go to university for DJs." This video short celebrating the store's 50th anniversary in 2019 sees former staff members like Derrick Carter and DJ Heather, and Chicago legends including Steve Silk Hurley and Ron Trent eulogise Gramaphone's importance. Words such as energy, vision and inclusivity pepper the conversations – everything you look for in a club is also front and centre in the store. Trent summarises thus: "Its legacy is based upon quality and being leaders in the community." 
The Vinyl Frontier: England in the '90s
As house music exploded globally, the scenes long witnessed at Vinylmania and Gramaphone would be replicated worldwide. London was a major vinyl hotbed in the '90s, as the city was enjoying an especially vibrant and creative period. "Groove Records, Red Records, Black Market, Catch-a- Groove, Zoom, Trax, If Music, Quaff, Vinyl Junkies, Mr Bongo – they are just the ones I can remember!" recalls DJ and producer Pete Heller.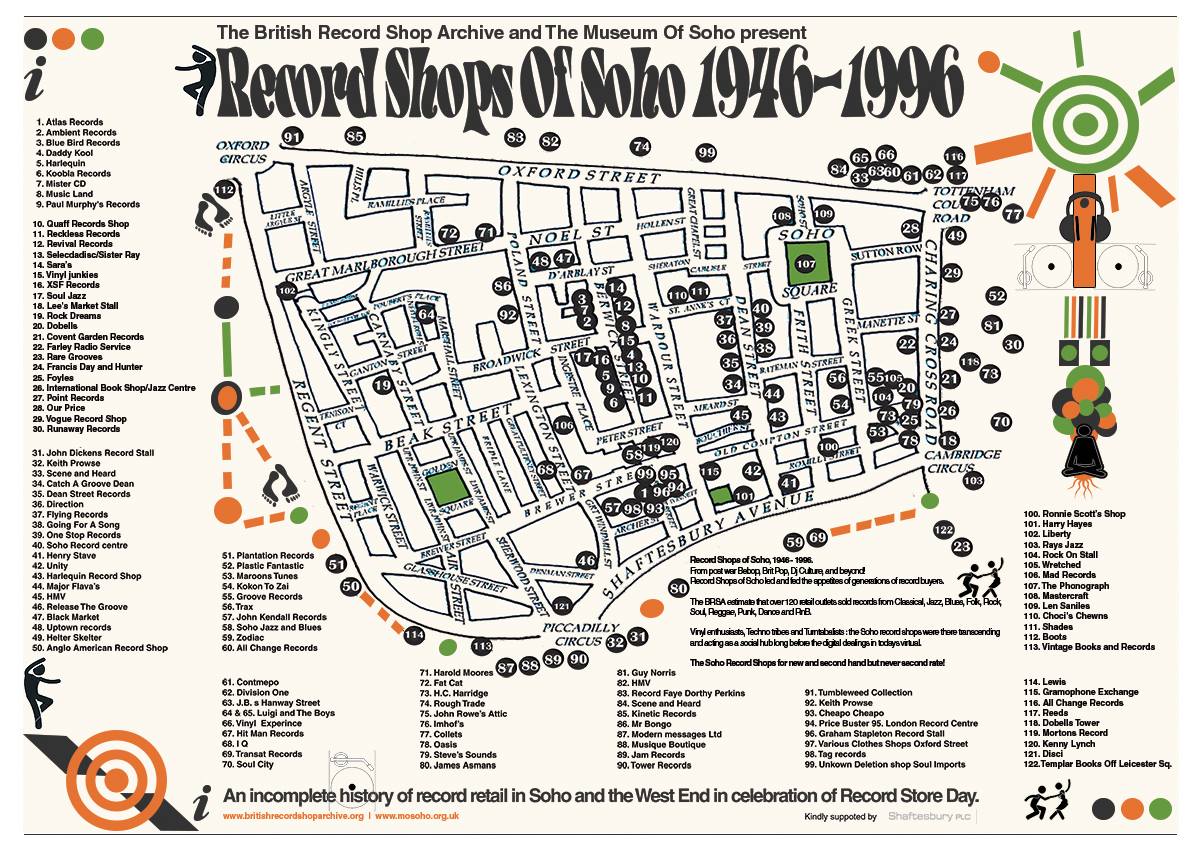 This graphic shows how integral record stores were to London's Soho district, from the post-war period up to the millenium. Competition in the 'vinyl mile'  in the '90s was mostly friendly but could be fierce, be it over the last remaining copies of a much sought-after import, or a DJing staff member whose services were in demand. Some of them had been honing their skills from an early age, for example the sorely-missed Phil Asher: "My dad worked in a record store, bringing home all the latest releases to me. He'd also bring me back boxes of returns. We'd sell them at school fairs. All the other kids would be doing Bob the Apple, and we'd be getting punks coming for Clash box sets for £20 a go. This grew up with me, and I went on to work in Quaff Records and Vinyl Solution, two of London's finest stores."
With house music moving far too quickly for the major labels, independents led the charge, and many artists started pressing up their own white labels, driving round the stores and hand delivering them. The retailers soon realised that, given their place on the frontline, they were perfectly positioned to start their own labels. Black Market launched Azuli, and debut release AZ001 exemplified the benefit of being on that frontline. 'The Morning After', produced by New York mainstays Lenny Dee and Tommy Musto under the Fallout moniker, had been released in 1987, but became an enduring UK rave scene anthem. Aware of the demand, Azuli licensed it and gave it a full release in 1990.
Fellow Soho store Tag Records started the Effective label to release a track by DJing staff members Simon Hanson and Lawrence Nelson in tandem with Simon Slater. They chose an anagram of Tag Records as their artist name – and it became one of the UK's most influential house records, while also helping to up the shop's profile considerably.
Meanwhile, Manchester had its own vinyl mile. "Richard Moonboots (Aficionado), Nick Grayson (Konspiracy) and Justin Robertson (Spice / Most Excellent) at Eastern Bloc (Mark Luvdup worked there briefly too); Russ Marland who played at the Hacienda and then did Out in the Sticks was at Spin Inn and then opened Manchester Underground (*see 1995 'home video' below); Kath McDermott from Flesh and Homoelectric, Dave Booth and Balearic Mike at Vinyl Exhange - oh, and some chap called Adrian Luvdup also worked there!" Adrian Gent (aka Luvdup) is reeling off a list of Manchester DJs (most of whom would merit a feature in their own right) who were behind the counters in the '80s and '90s, so intertwined were these vinyl emporiums they with the city's clublife. 
Eager shoppers would seek out tunes they had heard on Stu Allen's radio show, or at the city's dozens of well populated club nights. When the gangster element in Manchester clubland became too much, trips to the Blackburn raves would be arranged, or later over the county borders to Shelley's in Stoke, Out in the Sticks in Todmorden or Renaissance in Mansfield. With Mark Zuckerburg still in short trousers and brick-like mobile phones the preserve of the wealthy, retail therapy was so much more than picking up a couple of 12"s.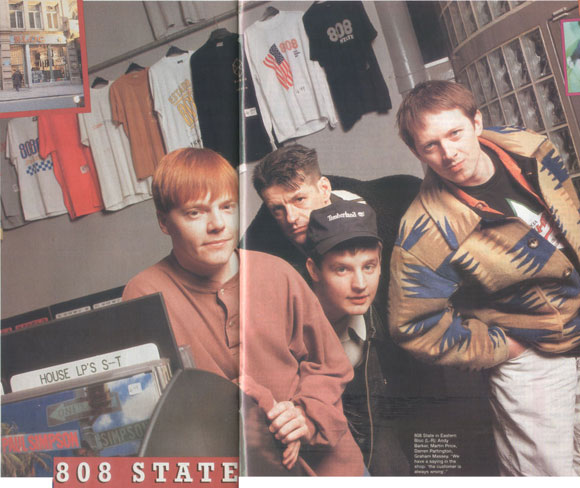 808 State's Martin Price was one of the men behind Eastern Bloc, recommending to band mate Graham Massey that they brought in young guns Darren Partington and Andy Barker based on the tapes they handed him in the shop. Here are the band hanging out in store for a photo shoot for the notorious pop magazine Smash Hits when they were Top 40 regulars. We are informed that they "created the ambient housey seagullness of 'Pacific State', the wuthered pummelling of 'Cubik', and now they've got the tremulous 'In Yer Face'." And here they are on Top of the Pops – Manchester vibes in the area!
Down the M62, a Liverpool store was also gaining quite a reputation both locally and nationally. 3 Beat was on a mission. DJ / promoter / label head Steve Parry spent a decade at the store's coalface: "We had specialist buyers for each genre we sold, with each one being a big figure in their scene locally - house was Paul Kane from the production duo Desert; I covered progressive house and played at Cream and later ran the Alderaan party; for techno we had Andy Nicholson, resident at the legendary Voodoo night; for funky house it was Les Calvert, Garlands resident / Juice FM DJ; scouse house (piano screamers) was Rob Cain, the king of scouse."
3 Beat was also one of the first stores to reach out to big name DJs from beyond their own city: "Within each genre we sold to the key players of the scene. Graeme Park to Jon Pleased to Digweed to Paul van Dyk to Doc Martin, and so many more were regulars who we sent packages to." This encouraged DJs from both in and out of town, bedroom and pro, to frequent the store - for the starry eyed, on a Saturday there was always the chance of bumping into one of the "superstars popping in before playing Cream, Voodoo or Circus."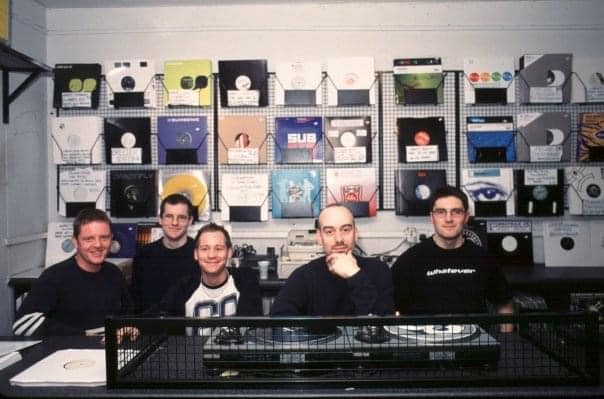 At the other end of the country was a store where you might find Carl Cox, John Digweed, Dave Clarke or Chris Coco leafing through the racks, or Norman Cook behind the counter. All Brighton / Sussex-based, they made a regular beeline for the city's Rounder Records. Little wonder that on enrolling at Brighton Art College in 1989, Damian Harris determined to get a job there. "We were one of the main ticket sellers for club nights & gigs, so every promoter and punter would come in with either flyers or tickets or rave tapes. No other shop in town had that unique combination. Many staff also did nights," remembers Harris, who would go on to be the driving force behind Skint Records, home of Fatboy Slim and many more (see both here as former staff celebrated the store's 40th birthday in 2006).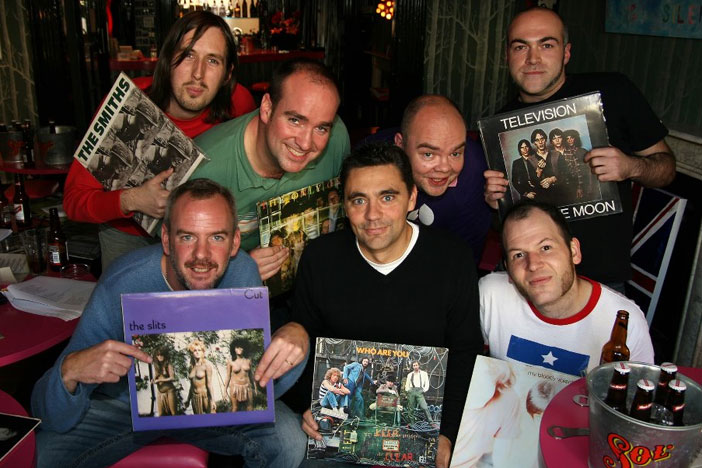 Not only did both he and Fatboy Slim have a Rounder connection – Skint artist REQ used his graffiti skills to paint the shop's back wall; while fellow employee Mark McQuillan would become Skint's distributor, and now runs Republic of Music, who offer a wide range of services to numerous artists and labels. Another ex-counter staffer, Lisa Norman, runs Brighton's new music festival, The Great Escape. "Rounder stocked & sold a wide range of music so everyone came in. Brighton club life was also very eclectic. Melting pot is a bit of a cheesy term - but it was true of the shop - you heard the best of all genres, heard the gossip about all the different scenes. It was a very big part of my musical upbringing," concludes Damian.
Disco Inn – DJ central in Italy
In Italy, another early adopter of house music, the leading players were to be found not in Milan, Rome or Naples, but Rimini (population 150,000) and Modena (population 180,000). The success of Rimini's Disco Piu can be linked to the town's vibrant nightlife, a magnet for holidaying Italians. For Modena's Disco Inn, it was a question of the stars aligning. Founder Fabio Carniel recounts: "I started in the early 80s in a shop specialising in electronic and afro funky music, serving DJs like Daniele Baldelli of Cosmic. When I opened Disco Inn in 1985, it coincided with the birth of Chicago house, and then homegrown Italian house. We were very popular with DJs as we had the Italian license to distribute DMC (pioneering DJ-only remix service), as well as organising their Mixing Championships in clubs." Fabio even persuaded DMC to host the World Finals in Rimini in 1997.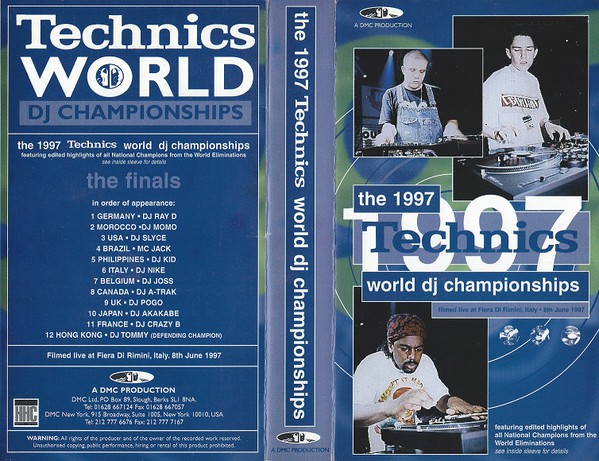 DJ royalty from around Italy shopped here – Claudio Coccoluto, Ralf, Alex Neri, Daniele Davoli (Black Box), Andrea Gemolotto. Also a regular was a young Severino, now of Horse Meat Disco: "Disco Inn was around 40 miles from my hometown. When I started my first club residency at 17 years old, I'd go every week. The majority of DJs by then were travelling by car all over Italy for gigs. Disco Inn was in a great location by one of the main motorways of North Italy, connecting west (Milan etc) with east (Rimini)."  The shop also attracted international DJs, as Fabio tells us: "Frankie Knuckles, Joey Negro, Roger Sanchez, Louie Vega – when they did their gigs they came to visit us because we organised live radio shows from the shop with guest DJs." Our picture shows a visiting Roger Sanchez with Fabio, colleague Daniele, and Italian DJ / promoter Luca Colombo.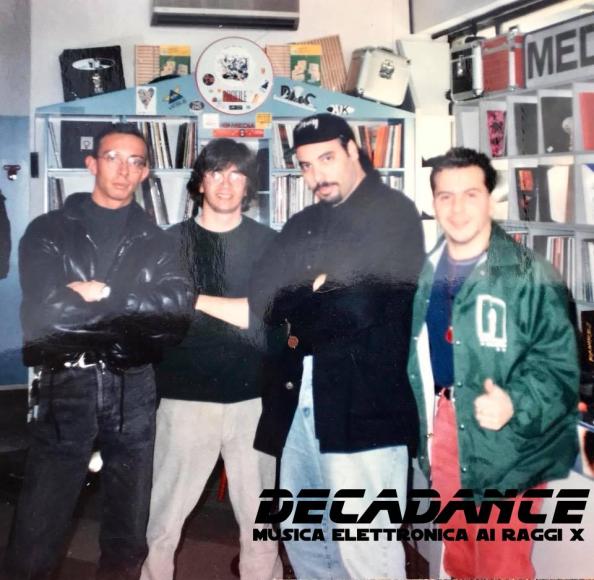 Disco Inn has a further claim to fame. Their Wicked & Wild label, via a licensing deal with Paul Oakenfold's Perfecto, commissioned Larry Levan's last remix. Alas the deal with Perfecto for DJ H came to an end and Levan passed away before it could get a full release - but you can still pick up one of the single-sided white label promos for an amount that doesn't require you to re-mortgage.
We can also give thanks to Disco Inn's unquenchable thirst for vinyl promos that Severino settled so quickly in London, where Fabio had a job lined up for him: "Basically trying to get as many promos as I can, especially big UK house labels like AM:PM, Azuli, Slip'n'Slide -getting lots of quantities of the same title was even better to satisfy our VIP customers (the famous Italian DJs). I would also buy promos through secondhand shops, where journalists or other DJs were going to sell them, record distributors - and then every week I'd ship the promos back to Italy."
Pure Groove and the birth of UKG
North London's late, lamented Pure Groove can arguably lay claim to being the birthplace of a whole scene, the label it launched in 1996, Locked On, being synonymous with the evolution of UK Garage (aka UKG). It's rarely mentioned now, but the genre, at the time an unlikely looking hybrid of the US vocal-led garage sound with an added UK sensibility from the jungle / drum'n'bass scene, was much derided by many of the self-appointed gatekeepers that had sprung up around clubland. Arguably this allowed it to develop more organically, away from the spotlight, with a tight knit circle of DJs, artists and pirate stations all congregating around Pure Groove. As major label vultures began circling the store, the Pure Groove team decided to start their own imprint.
The noise began with this mix CD. "Once we had the idea for a compilation, we needed someone to mix it. One of the last names mentioned was Todd Edwards. I remember someone asking, does he even DJ? He'd never been to the UK, we'd never met him, we didn't really know anything about him except that he had this distinctive production style," store / label co-founder Tarik Nashnush recalled here. Locked On became a UKG hit factory, a tie-in with XL enabling them to take those tracks with crossover potential to the next level. This in turn spawned sister label 679 (named after the shop's address), which was used to launch the Streets and their seminal debut, Original Pirate Material.
21st Century Innovators
"In 2004 we closed the store. Prices for rent were rising, and customers were dwindling. Napster had devalued music and reduced the amount of people buying records. Soho became dead as all the stores closed." David from Mr. Bongo recalls a period that many saw as the death knell for the record store. However, a community had built up around not only the store but its sister label. The store's roots were in hip hop, the label was feted for its Brazilian music expertise, but in time it all morphed into one heady brew. "We release music from all over the world and from all different periods of time - reissues and brand new. We are best known for our Brazilian, African, funk, jazz, soul and hip-hop selections," says David, but making connections in so many worlds has also led to projects with house luminaries such as Masters at Work.
Into its fourth decade, community remains at the heart of the Mr Bongo operation. "The team behind the label are all avid collectors, and most of us DJ. It's really important to get involved in the scene - to support it and to learn from it. That's how community works best - a balance of give and take," says David. And in 2016, Mr Bongo re-opened as a record store in Brighton. "The store quickly became a key place for us to meet customers, for artists to drop by when they were playing in town, and generally become a bit of a hub. We run numerous in-store events where we get DJs and labels we respect to come by and play some records for 4/5 hours - we get a good crowd and when the sun is out it is glorious. We livestream these too for our global audience." 
Such an eclectic approach to music is one route chosen by many of the stores that have survived and thrived this century. Soho's Sounds of the Universe is joined at the hip with the Soul Jazz label, and the variety of music they create is astonishing, their catalogue taking in reggae, gospel, punk, house, disco, jungle and Krautrock in addition, naturally, to soul and jazz. However crucially, despite this diversity, they have earned respect as experts in all these fields – and the store remains at the centre of it all. Lavish coffee table books are also a speciality, and merchandise, gigs, and a weekly radio show (on Soho Radio, naturally) all contribute to cementing their position of influence and ongoing viability.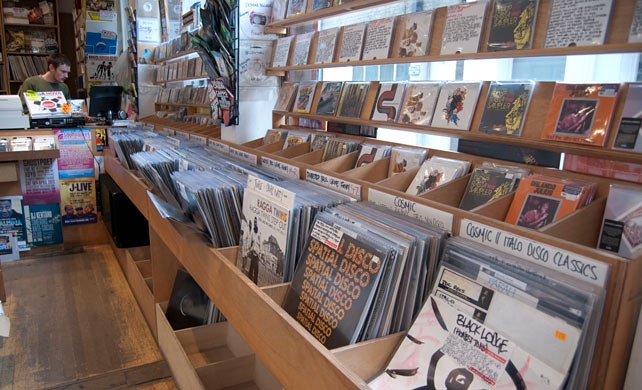 Record stores may now have to work just that bit harder to build a community that is no longer obliged to visit them, but in so doing, many have built something truly special. London's Phonica, for example, is renowned for its in-store DJ appearances – which gives us an excuse, as if we needed one, to share this two hour masterclass from Louie Vega, which was streamed worldwide.
Kompakt in Cologne has been a highly successful label for over 20 years, home to key releases from artists including Kolsch and John Tejada. The brand also takes in booking agency, recording studios and distribution services - crucially, all based under one roof, with the shop as the beating heart, as it has been since it opened in 1993, initially as a franchise of Delirium, becoming the fully independent  Kompakt  five years later. "I had always dreamed of having a culture factory where I could live with people under one roof. I always had this idea of me as being an Andy Warhol of techno," co-founder Wolfgang Voigt told RA here.
Rush Hour in Amsterdam shares key characteristics with the likes of Kompakt and Phonica that give it that contemporary twist on the record store as community hub model – label, distribution, merchandise, in-stores. It has also acted as an incubator for a generation of Dutch production talent, several of whom feature in this video short from Fact magazine, outlining the store's importance.
The worlds of both culture and retail can be ruthless, the ability to stay ahead of the game a pre-requisite. In 2021, albeit in reduced numbers from their late 20th century heyday, cutting edge record stores continue to show their value as a vital cog in our cultural eco-system.