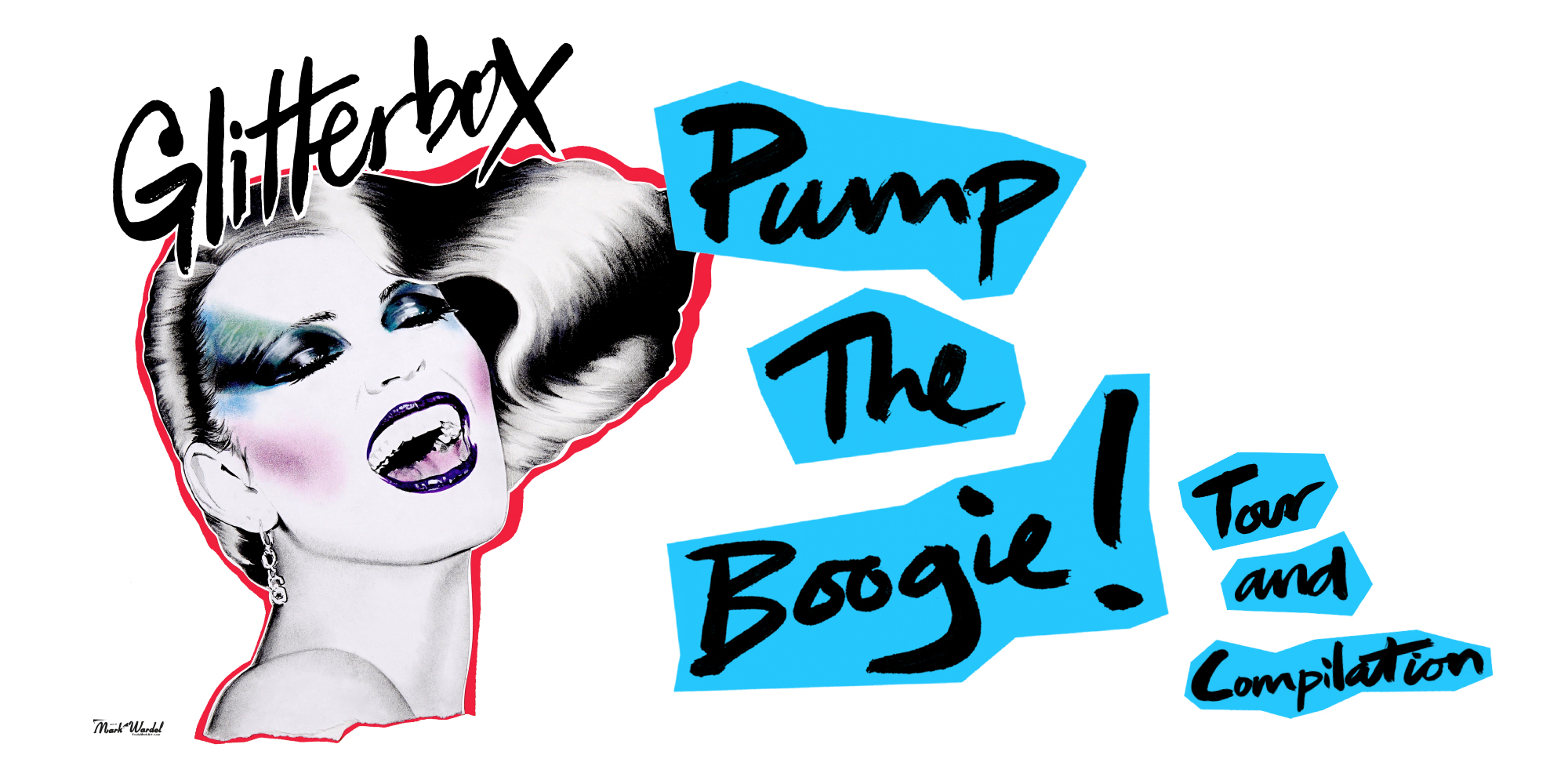 Following a stellar summer in Ibiza, we are excited to announce that Glitterbox will be on the road again for an international tour, as well as releasing a brand new compilation mixed by disco connoisseur and Glitterbox A&R Melvo Baptiste. Pump The Boogie! is all about continuing to deliver the Glitterbox sound, no matter where you are, and guaranteed to move mind, body and soul.
The Glitterbox tour is kicking things off in Lyon at Club Azar, before returning to Glitterbox's UK home Ministry of Sound for its fourth consecutive sold out party in London. Expect a night of house and disco magic delivered by headliner Joey Negro, a powerhouse of both genres in the UK. The Pump The Boogie! tour will also include Glitterbox's Australia debut, with dates in Sydney, Melbourne and Perth, bringing house legend Todd Terry down under. UK fans can rejoice as Glitterbox will also take the tour to the streets of the UK, with dates scheduled at Leed's Church club, Junction in Cambridge, Bristol's Marble Factory, Digital Newcastle and another London date in the pipeline for Ministry of Sound too. We are also excited to announce that Glitterbox will be heading across the pond to NYC's iconic House of Yes, one of the city's most notorious clubs, after the first incredible event there this summer. Headliners across the tour include Dimitri From Paris, Roger Sanchez, Louie Vega, Purple Disco Machine and Horse Meat Disco, as well as support from Dr Packer, Nightmares on Wax and Simon Dunmore, just to name a few. As always, the euphoric house and disco hedonism of the Glitterbox dancefloor will be enhanced by performances from the flamboyant Glitterbox dancers, including some familiar faces who have graced the covers of recent Glitterbox albums. 


GLITTERBOX LYON 
CLUB AZAR
FRIDAY 5THOCTOBER
GLITTERBOX LONDON [SOLD OUT]
MINISTRY OF SOUND, LONDON
SATUDAY 13THOCTOBER 
GLITTERBOX AUSTRALIA 
HOME THE VENUE, SYDNEY
FRIDAY 2ND NOVEMBER 
 GLITTERBOX AUSTRALIA
VILLA, PERTH
SATURDAY, 3RDNOVEMBER
GLITTERBOX LEEDS
CHURCH, LEEDS
SATURDAY 3RDNOVEMBER 
GLITTERBOX AUSTRALIA
XE54, MELBOURNE
MONDAY 5THNOVEMBER 
 GLITTERBOX CAMBRIDGE [SOLD OUT]
JUNCTION, CAMBRIDGE
SATURDAY 17THNOVEMBER 
 GLITTERBOX BRISTOL [SOLD OUT]
MARBLE FACTORY, BRISTOL  
SATURDAY 17THNOVEMBER
 GLITTERBOX LONDON
MINISTRY OF SOUND, LONDON
SATURDAY, 8THDECEMBER 
  GLITTERBOX NY
HOUSE OF YES, NY
SATURDAY, 15THDECEMBER
With the Pump The Boogie! compilation, you can enjoy the sounds of the tour from wherever you are. Boasting fifty tracks across the compilation, this carefully curated selection of tracks demonstrates Glitterbox's signature authentic dance sounds and celebrates both the old and the new. Classic tracks from Sister Sledge, Kathy Brown and The Emotions prove once again why great disco stands the test of time, as they stand-up against new tracks like Mighty Mouse's 'The Spirit' and Reset Preset's 'Hands Together' (House of Omni Hands Together Extended Club Mix). True to Glitterbox form, the release explores authentic dance music enhanced by live instrumentation, moving from the joyful 80s and 90s sounds, right through to hot new releases.
Melvo Baptiste's credibility as a selector is once again made clear with this compilation, as he captures the energy of Glitterbox's parties with this enigmatic and diverse range of house and disco. The Glitterbox DJs, performers and the electric crowd have cemented Glitterbox's place as one of the world's hottest parties, this autumn Melvo and the Pump The Boogie! tour will bring the phenomenon to you.
Available on 3CD/Download/Stream on 2nd of November
CD 1
The Brand New Heavies featuring N'Dea Davenport-Never Stop (Morales Extended Mix)
Advance-Take Me To The Top
The Emotions-Turn It Out
T-Ski Valley-Catch The Beat (Dimi's & Mousse T.'s Old School Mix)
Lisa Millett-Don't Bring Me Down (Copyright Main Mix)
Doug Willis-Doug's Disco Theme
Bosq featuring Megan Doherty-Can't Seem To Hide
Slam Dunk'd featuring Chromeo & Al-P-No Price (Art Of Tones Extended Disco Mix)
Julie McKnight-Home (Original)
Hifi Sean featuring Paris Grey-Lost without U (Extended)
Qwestlife featuring Teni Tinks-Hit It Off (Extended Disco Version)
Gizelle Smith-Dust (Dimitri From Paris vs Cotonete Discomix)
Bebe Winans-Thank You (MAW 12" Mix)
Lord Echo featuring Mara TK-Just Do You
Sticks & Stonez featuring Liv East-You're My
E-Smoove featuring Latanza Waters-Deja Vu (Original Vibe)
CD 2
Selace-So Hooked On Your Lovin (Mousse T.'s Extended Disco Shizzle)
DJ Mes-Da Change (Miguel Migs Salty Rub)
Mattei & Omich featuring Ella-Hold Me (Original Mix)
Gershon Jackson presents Reset Preset-Hands Together (House of Omni Hands Together Extended Club Mix)
David Penn-Losing You (Original Mix)
Sister Sledge-Got To Love Somebody (Dimitri From Paris 12" Version)
DJ Spen & Ann Nesby-I Feel (DJ Spen Disco Dreams Re-Edit)
Ilija Rudman-Lovers Change Minds (Hot Toddy Extended Remix)
Lee Curtiss featuring Desmond 'DSP' Powell-Erotic Tendencies (Extended Club Mix)
Dennis Ferrer featuring Danil Wright-Church Lady (Original)
Juan MacLean-Just Once More (Extended Mix)
Armless Kid featuring Queen Rose-Loubar's Stars (Accapella)
First Choice-I Can Show You (Better Than I Can Tell You) (Phonk D Edit)
Shawn Christopher-You Can Make It (Ron Carroll's Original Mix)
Kim English-I Know A Place (E-Smoove Club Mix)
CD 3
Kathy Brown-I Appreciate (BC's Anthem)
Sergio Flores featuring Joy Malcolm-Give It Back (Original Mix)
Urban Blues Project present Jay Williams-Testify (Mousse T.'s Test-A-Dub)
Brian Tappert-The Organ Track (The Other House Mix)
Bongoloverz featuring An-Tonic-Power Of Music (Accapella)
Salif Keita-Madan (Martin Solveig Exotic Disco Mix)
Purple Disco Machine-Move Or Not
Oeil Cube-Disk Two
Jon Cutler featuring E-Man-It's Yours (Accapella)
Mighty Mouse-The Spirit (Extended Mix)
Purple Disco Machine-Body Funk
Bobby D'Ambrosio featuring Michelle Weeks-The Day (Alaia & Gallo Remix)
Black Loops & Innocent Soul-Wanna Feel It (Extended Mix)
Mekkah featuring Bryan Chambers-I Got You (Club Mix)
Joey Negro-Stomp Your Feet (Hot Toddy Instrumental)
Mark Picchiotti presents Fondue-Pump The Boogie (Basstoy Boogie Mix)
Paradise Express-Dance (Special 12" Disco Mix)